Tired of constantly searching for misplaced, faded receipts? Whether you are a professional contractor or a DIY weekend warrior you can automate your Menards receipts to simplify your construction project accounting. There's no need to scan receipts or snap photos anymore for your job costing, pass through expensing, or invoicing. Luckily, there are automation tools so that you can have more time for more important things. Sync your receipt data to your accounting platform like QuickBooks, Xero, or Zoho Books instead and skip the manual data entry to start saving time and money.
Go to Menards.com and Welcome, Sign In > Create an Account
Everything begins with your Menards account. It's the key to set in motion the automation of your receipt data. You do not have to be a professional contractor or have a Menards Big Card, or a contractor or commercial credit card to sign up for a free Menards online account. Most retailers can track your purchases for you by either your credit card like at Home Depot or your loyalty card like at Lowe's. If you are signed up for the Menards email program, that does not mean that you already have an online account.
Once you create a Menards account, add your credit cards and use them for all of your purchases. From there it's easy to track your receipts and automate them. You'll be able to make returns without a receipt, and you'll have access to your complete purchase history of all in-store, and online purchases, and other tools and benefits.
Sign in at Menards.com Under your name, click on My Account in the pull down menu, and complete your profile if needed. Then go to Manage Account, scroll down to Payment Methods, and Add + Credit Card to securely add new, expired, or closed credit cards, debit cards, and gift cards and click Save. An expired credit card cannot be set as a default payment and will not be available at checkout for online orders. You may add or delete cards at any time by clicking "Payment Options" under the Options section of your account. However, you may want to keep them listed until you have successfully automated all of your receipt data. See also Receipt Data Storage below.
You do not need a Menards account to place an online order. But remember if you are an online guest or didn't log in when placing your order, it is more difficult to look up your order receipt and usually your receipt can't be automated.
To look up a receipt, just sign in to your Menards account or download the Menards app onto your mobile device to access your account. Or according to Patti at the Menards store in Wixom, Michigan, you can use the in-store kiosk near the turnstyles and put your gift, debit or credit card in that you think you may have used for a purchase in order to look up and reprint a receipt. Reprints can't be used for rebates but are useful for your returns, bookkeeping and other purposes. If you paid with a check or cash, you will not be able to do any reprints. Patti warned that only your original receipts are accepted for rebates. Additionally, if you mailed in your originals, then you won't have your receipts for anything else like claims, insurance, tax compliance, etc. So having automation tools is still a good idea even if you never "use" or lose your original receipts!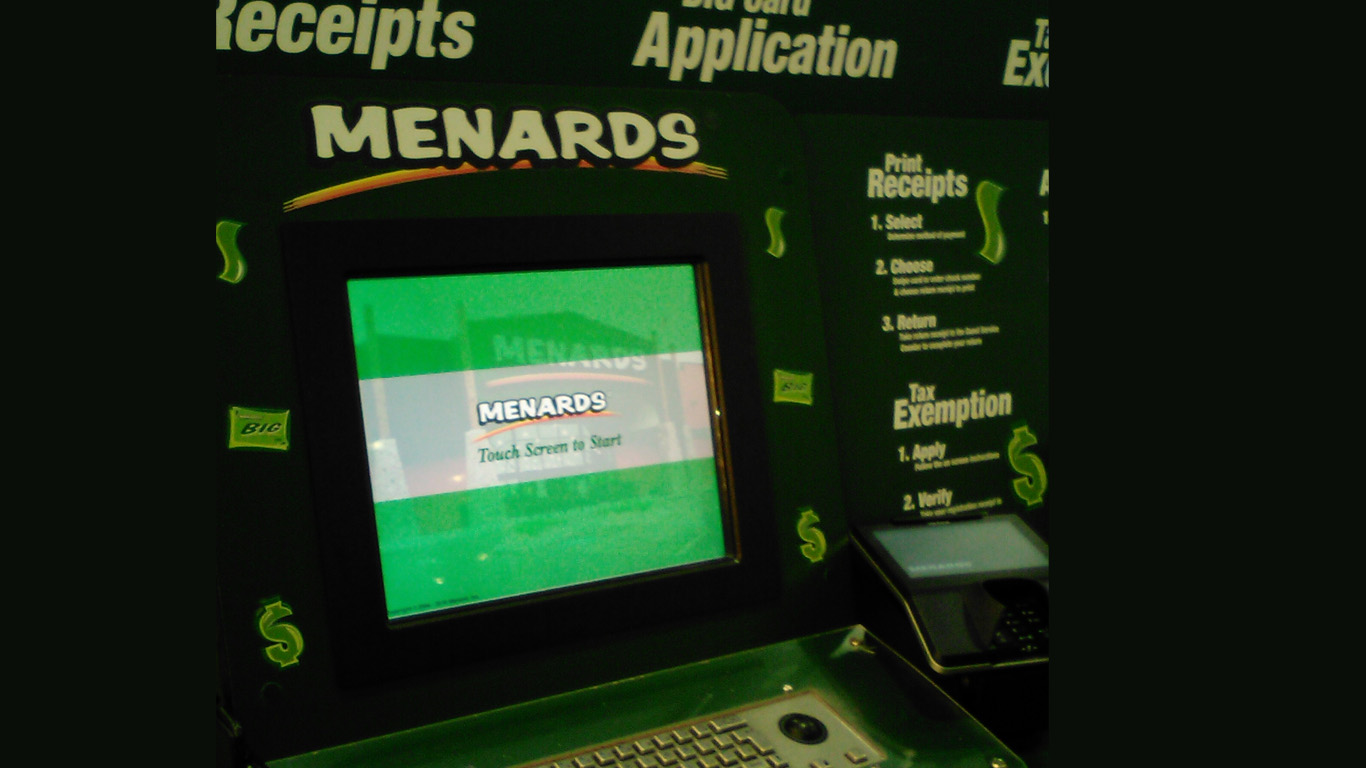 Pro Tip: Menards rebates are for merchandise credit for in-store purchases only (can't be used for online purchases).
Pro-Tip: Jeff, a sales associate from the Wixom, Michigan Menards location, recommends that you do a pull order online first and then pick it up in-store so that your receipt can be tracked. Remember that you must be logged into your account and not to order as a guest.
Did you know that you can get receipts from discontinued credit cards, closed credit cards, and empty gift cards for the past 7 years from Menards? This is a great feature for catching up on your record keeping or if you are looking for receipts that you need to reconcile.
Anonymous forms of payment are not usually trackable. However, there are solutions. If you need to oversee project expenses, you could use a debit card or buy gift cards with cash as trackable forms of payment. Then your purchase is basically cash based (rather than revolving credit) and can still be tracked if you added the cards to your Menards account beforehand. Remember that cash purchases can not be tracked at Menards. Menards will not be able to reprint a receipt for you or look it up.
If you have a commercial or business credit card set up in advance that requires a PO# or Job Name, then the cashier will ask you for it and it will be listed on your receipt. If you do not, it may be possible to ask at checkout if the cashier could enter one for you but there won't be a prompt for you at the card reader. When Job Name isn't available, you could purchase different gift cards for each separate project or use separate debit cards so that your expenses could be tracked by the last 4 digits which is always listed on your receipt. See below about automating your receipts and job costing.
"No. At this time it is not possible to manually add receipts to your history." -Menards. That's why having Greenback help you with your receipts saves you time and money. If you automate your receipts, you can search by any detail (not just by sku or barcode) too.
Go to Greenback.com to create a free Greenback account. Connect your account(s). That's it!
Greenback automatically imports your original, itemized receipts and syncs them to your accounting platform. Or you can export them to Google Sheets, Excel, or Concur as well.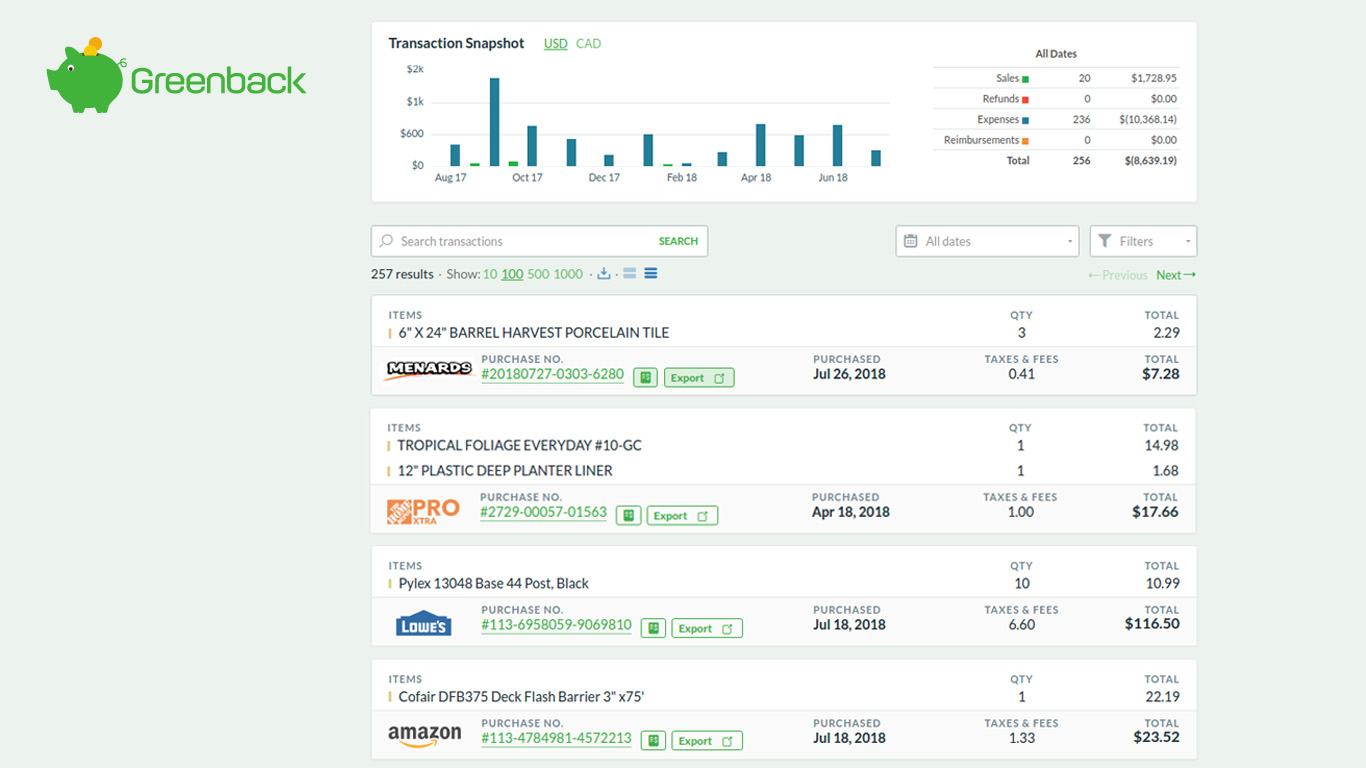 To see all of your Amazon, eBay, Menards, Lowe's, Home Depot receipts and more, all on one dashboard, try it out at Greenback.com—powerful technology with time-saving automated features, and 100% accuracy.
5 Reasons Why You Need Automated Receipts
How to Automate Home Depot Receipts
Greenback does not recommend paying with Apple Pay or mobile wallets unless it is an online purchase and you are logged in to your Menards account. Contactless NFC payments are anonymous like cash so your receipts can not be tracked. Some vendors track by phone number, credit card, or loyalty card so it is important to know ahead of time how they can help you track your receipts.
It's imperative to store your receipt data for at least 3-7 years (or indefinitely for some receipts) for tax compliance. Menards will look up your receipts for you as far back as 7 years while other stores may only archive up to only 90 days. According to State Farm, receipts are needed to help you file an insurance claim, make coverage decisions, secure a settlement, or verify property loss for taxes in case of fire, flood, or other casualties. Greenback recommends automating all of your receipts from all of your vendors/shops/marketplaces so that you can be worry-free.