PRODUCT UPDATE
Greenback Lets You Customize Your Accounting Exports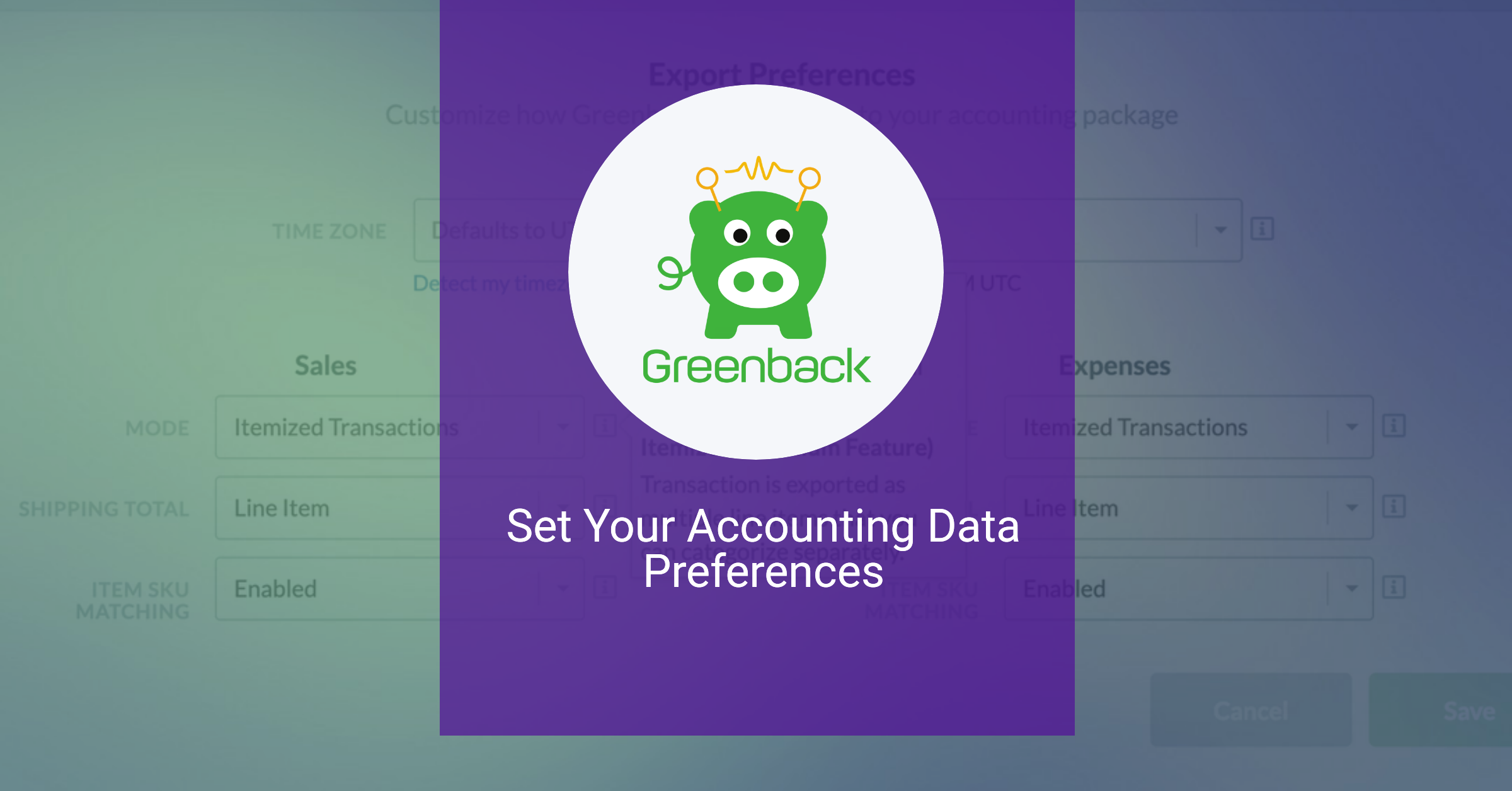 How It Works
With Greenback's Accounting Export Preferences feature, you can choose how you would like your sales and expense data exported to your accounting package. Greenback adapts to your custom settings on the fly for maximum flexibility. Format your transactions to suit your needs with our Time Zone, Summary or Itemized Mode, Shipping Total, Discount Total, Item SKU Matching, and Contact Level.
Where To Find It
On the left navigation, you'll see your list of integrations ie: vendors, marketplaces, and accounting system connection(s). Just click on QuickBooks or Xero to open the Accounting Export Preferences. Scroll down if needed to see them. You can change your preferences at any time. Greenback will save your updates and apply them immediately to any transactions exported next.
Time Zone
Marketplaces and platforms have date and time-related data but accounting packages usually store by date only. Greenback helps solves this problem by giving you control over how your data is exported. We recommend that you choose the same time zone that your accounting is in. Greenback displays the time in UTC (time offset +/-) by default or you can switch it to the equivalent local time format. Remember that the time zone, and time of year (standard or daylight savings) can affect the date. For example, a purchase at 02:00:00 AM UTC (Coordinated Universal Time) March 10th is also the same as 09:00:00 PM EST (US Eastern Standard Time) March 9th. Make sure to also know when time of day may be a factor too. Many platforms have deadlines and cut-off times at midday or early afternoon for end of business day rather than by the time. Your transactions may show a date that you weren't expecting, but remain 100% accurate. Greenback lets you pick the time format so that your exports conform to your needs.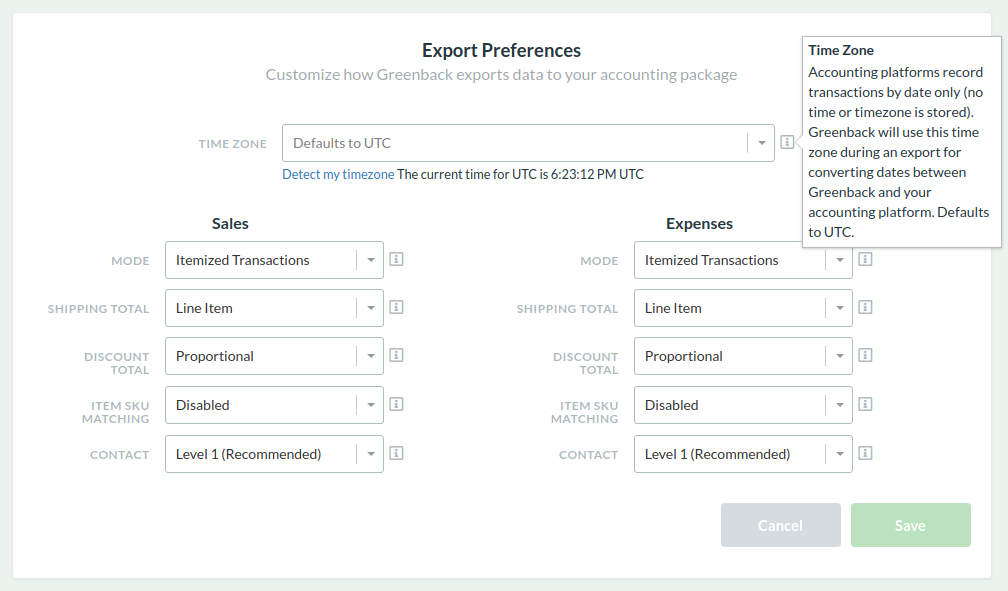 Summary or Itemized Mode
In Summary Mode (default setting), your sales or expense transactions are exported as a single line item that exports to one category. Itemized Mode is a premium feature. Transactions are exported as multiple line items that you can categorize separately. If you would like more flexibility without losing your saved settings, you can toggle between Itemized or Summary mode within the Export Wizard during a 1-off export (not bulk export) instead. Only that one transaction will be exported differently than all the others.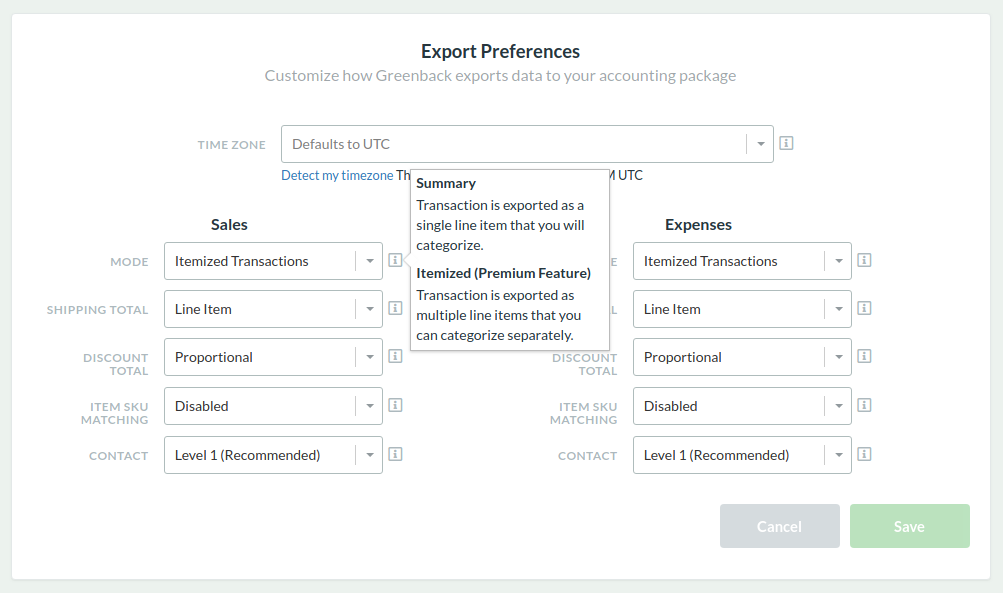 Shipping Total
For proportional shipping (default setting), the total is spread out equally over each line item. Line Item Shipping is a premium feature where the shipping total is exported as one line item by itself. This is a favorite feature for sellers who like to see separately how much they are spending on shipping costs.
Discount Total
For a proportional discount (default setting), the total is spread out equally over each line item. Line Item Discount is a premium feature where the discount is exported as a separate line item.
Item SKU Matching
For SKU matching, while in disabled mode, Greenback will only match an item to a SKU if it was previously mapped. When SKU matching is enabled (a premium feature), Greenback will automatically match items via previously mapped exports or search for matching SKUs too. Greenback will also pass through the quantity if you have Inventory set up in your accounting system. For example, a sale of a product will decrease your inventory by one. A sales return would increase it.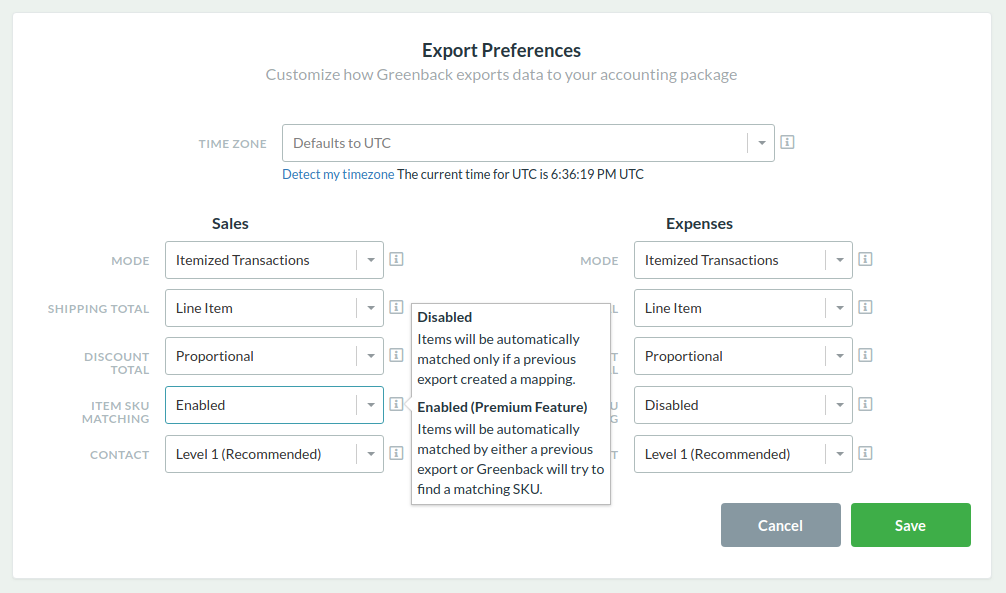 Contact Level
Contact Level 1 (Customer/Vendor) is the default setting. We recommend this for marketplace sellers (e.g. Etsy, Amazon Seller, etc.) with sales from anonymous buyers and one-time purchases. When you don't have the buyer's name + email address, or the marketplace doesn't share that data, those customers aren't trackable. Contact Level 2 is a premium feature recommended for when you have a platform or payment gateway (e.g. Shopify, Stripe, Square, etc.). You have repeat buyers, subscribers, month to month plans, etc. so their name + email address is imperative. Greenback detects and syncs the transaction to your specific buyer from a previous mapping or creates a new contact (Customer/Vendor) for you. Most accounting packages have a soft limit on the number of contacts to optimize their system performance so keep that in mind when choosing your contact level. If needed, you can always change your preferences temporarily at any time and then just switch it back when you are done.
How to Save Your Preferences
When both buttons, Cancel and Save, are greyed out, the settings displayed have already been saved. To change to a new mode or setting, just click anywhere to make the Cancel and Save buttons available again. After indicating your changes, be sure to click Save again to use the new settings. Greenback will apply them immediately to new or re-exported transactions upon export.
Learn More
Greenback's Flexible, Powerful Search
Greenback's QuickBooks Help Guide