CONNECTED ACCOUNTING
Automate Your In-Store and Online Walmart Receipts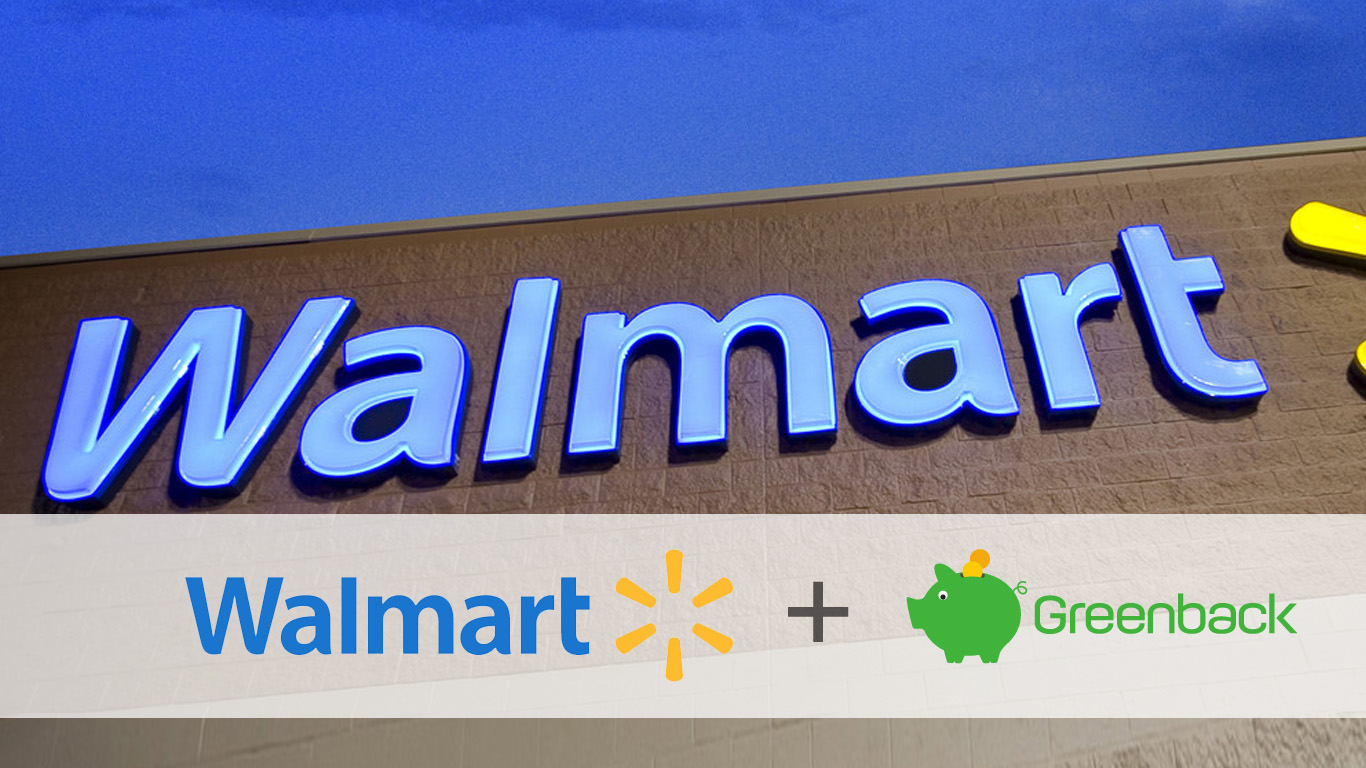 Overview
Whether you work for someone else or you're starting your own business, now is the time to streamline your accounting and reconciling to save time and money before the next quarter or year end. When you connect your Walmart account(s) and sync them with your accounting platform, you can automate your transactions for easier job costing, pass-through expensing, and improved tax compliance. How does that work? Walmart makes it possible to automate your receipts by integrating with the Greenback app. We automatically import your itemized receipts for you with your Walmart credentials and sync them to your QuickBooks, Xero, or Zoho accounts, and more with no manual data entry!
We know how annoying receipts can be even when they are online or on your device. Now there's no need to hunt through your Walmart orders, search Savings Catcher or login twice to find anything! Rather than guessing what was purchased or returned, you can reconcile with the actual itemized transactions. You can see spending totals on your dashboard instantly too. You'll have less work and better insights.
Let's Start Automating!
Login to your Free Walmart account at Walmart.com to test your credentials if needed.
Sign up for a Free or Premium Greenback account at Greenback.com

Connect your Walmart account(s).

Connect your accounting platform. (Optional)
That's it!
As soon as you connect your account(s), you'll set in motion the automation of your receipt data. You'll see your transactions immediately in Greenback. There's no waiting for days or any setup. You do not have to be a business owner or have a corporate account (for gift card orders only) either. Greenback can sync all of your Walmart account(s) to an unlimited number of accounts in QuickBooks, Xero, or Zoho which is great if you have more than one. By leveraging our amazing transaction data, Greenback supplies you key information, in the right context to help you export with confidence every time and reconcile every cent spent. All of your transaction details are indexed, and easily searchable on our platform and the data (along with the receipt) syncs to your accounting package. For high-volume users, there's a Bulk Export feature too that can save you a lot of time when you need to catch up on record keeping.
No matter how you have your QuickBooks, Xero, or Zoho accounts configured, Greenback's advanced technology is flexible. During syncs, Greenback automatically matches transactions or creates new ones, auto-fills fields, and automatically attaches the PDFs in your accounting platform for you. Greenback intelligently adapts to your current preferences, custom chart of accounts, and dropdowns. No training wheels are required. You don't have to worry about duplicate transactions or errors either.
Every Walmart transaction goes thru our thoughtfully engineered validation process to ensure you have 100% accurate financial data in your accounting system. See below for tips on starting your business, best accounting practices and how to use Walmart + Greenback to your competitive advantage.
Greenback's Automated Transaction Feed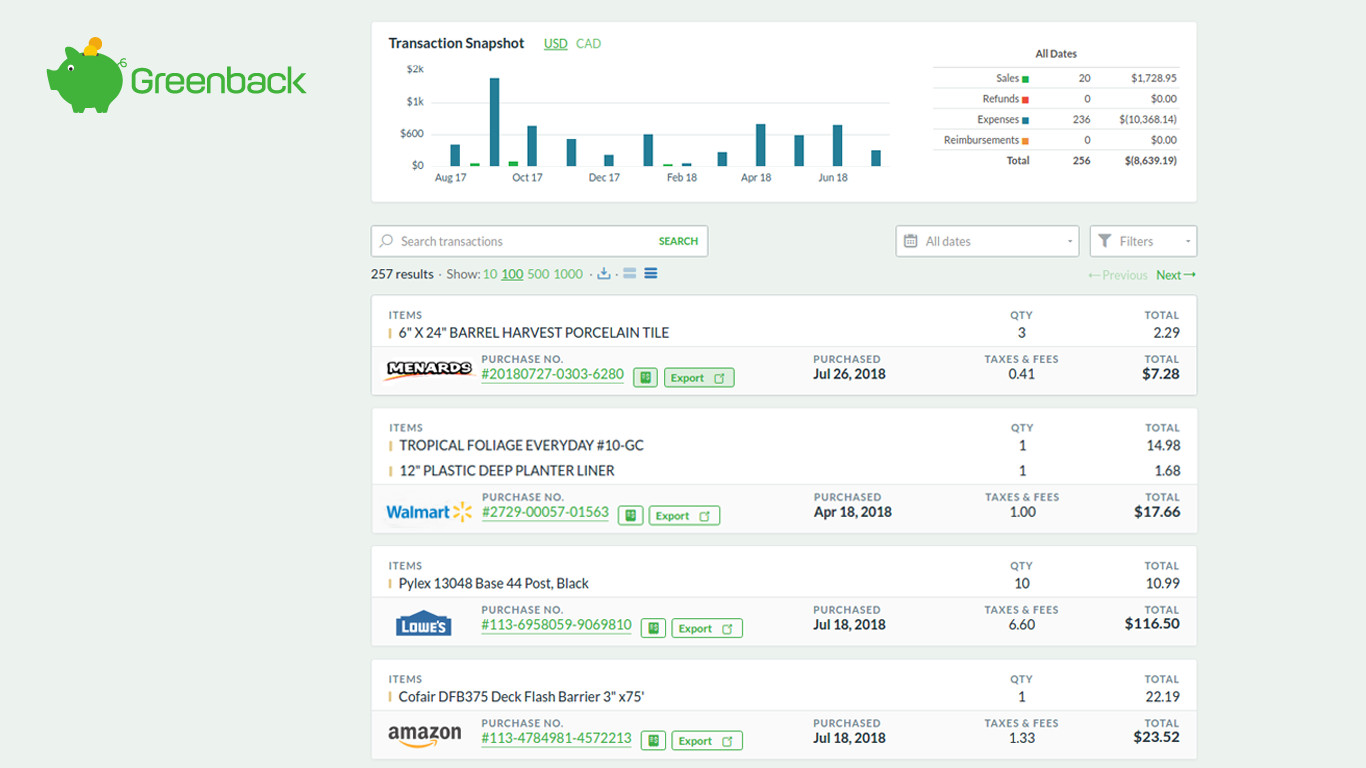 To see your Walmart, Jet, Amazon, eBay, Office Depot, Staples, and NewEgg receipts and more all on one dashboard, try out Greenback.com—powerful technology with time-saving automated features, and 100% accuracy.
Pro-Tip Use the Greenback app to automate your workflow and repetitive accounting tasks. As a predictive tool with intelligent syncs, we provide users with recommendations on what actions to take when syncing to their accounting platform.
How to Look Up a Walmart Receipt
For an in-store Walmart purchase, if you know the specific details like time of day, purchase date, store location, total etc., then you can go back to the same store, and they can look it up for you and reprint a paper receipt. Or you can even call the store or the Electronics Payment Hotline at 479-277-2643 and they can fax it to you. They will not email it to you though. Remember don't wait too long. There are always time limits on how long a store keeps data.
We recommend using Greenback so that you can skip all of that. For the next time, make it easier to find, print or export in-store Walmart receipts by automating them. Just make sure to optimize your Walmart account. Here's how:
Download the Walmart app onto your mobile device. Sign up for an online account at Walmart.com if you haven't already.

Add your credit cards, debit cards, or Walmart gift cards to connect them to the "Walmart Pay" feature.

At checkout use Walmart Pay. Just scan the QR code on the card reader with your phone. Now your receipt is tracked. You'll see them in your phone and you can email one from there or find them in your online account under "Savings Catcher" not Purchase History. If you pay with cash or forgot to pay with your phone, you can manually add your receipt after the fact. Just scan the barcode or enter the TC number with the app. It can take up to 72 hours for Savings Catcher to process your receipt. You can only manually add one receipt per day. Technically you only have 7 days to manually submit the receipt for savings. It is possible to still upload the receipt to at least get the receipt data added.

If you would like to be able do more with your receipts from Walmart and other top stores, and channels, go to Greenback.com next to view, search, create snapshot reports, export or sync to your accounting platform and more.
How to Manually Create a Walmart eReceipt
Launch the Walmart App, choose the Account image, go to Purchase History. Tap the + sign in the right corner. Scan the QR code or barcode on your paper receipt with your mobile device. Or manually enter the TC number. For in-store purchases only. You can have your eReceipt sent to your mobile phone by entering your mobile phone number during the time of purchase.
How to Print Walmart Invoices
Login, then go to My Account, Recent Orders or Orders, and Order History. Next click on "See Details" and click on the printer icon at the top right of the order or simply right click. We recommend using Greenback so it is easier to search, print, export, and sync your receipt data and your receipts.
How to Do an Express Return for a Walmart In-Store Purchase
Use the Walmart App for faster, easier returns:
Download the Walmart App. Click the Services tab. Scan your receipt, use Walmart Pay or select Start a Return.

Start a return. Select the item you want to return. Follow the prompts on screen.

Find the Service Desk in store. Join the Express Lane. Click Scan on the home screen. Scan the QR code at the desk.
Note: You can also return items in-store for an immediate refund. No receipt? No worries. They can look up your item. But if you connect your Walmart account to Greenback, you will always have your receipts. Then you will have more options for your return and not be flagged for too many returns without a receipt.
Walmart Benefits For Your Business
Free Shipping If you have a standard Walmart account, there is Free 2-Day shipping for online orders over $35. No Membership Fee.
Office Supplies & Electronics You can have office supplies and electronics ready for you or an employee to pick up in-store the same day. Order picking is free.
Fresh Food & Pantry Items There is same day (ready in approx 4 hours) grocery pickup in-store of fresh food and pantry items. Order by 1pm for same day pickup. No membership or subscription fee required. No markup. See "How to Do Walmart Grocery Orders" below.
Pickup Discount There are online-only products (shipped for in-store pickup only) that are eligible for the Pickup Discount.
Add an Employee or Pickup Person Just sign in to Your Account, then go to Account. Choose which order and select See Details. Then select Edit next to the Current Pickup Person and add your Alternate Pickup Person. It can take approximately 4 hours for your Walmart store to receive updated information regarding the new pickup person.
Corporate Discount You can apply for the corporate account to take advantage of the gift card bulk discount, easy reloading features, and additional ways to pay for cards and reloading such as wire transfer, credit card, etc. Remember you can also use your Walmart gift cards on Walmart.com, VUDU.com for movies, tv shows, and more for your office or business.
Fuel Discount Where available, you can also use your blue Walmart Gift Cards at participating Murphy USA stations (not Murphy Express). You get 3 cents off/gallon. The gas station refers to them as "Walmart Discount Cards". Remember that you can not use Walmart Pay for fuel at this time.
Electronics Trade In Program Trade in your electronics for gift cards. Go to CExchange to find out more about the program. If you have any questions about products, delivery or customer service, please reach out directly to CExchange.com at 1-800-351-6864 or email GadgetsToGiftCards@CExchange.com
Order Business Checks Walmart Checks for Your Business
Pay Bills: Pay Bills
Walmart PickUp Tower In select cities, customers can pick up their online orders in less than a minute! To use the tower, order online at Walmart.com and select the Pickup option during checkout. When you receive the email saying your order is ready, check-in by scanning the QR Code in your email or entering your order number to retrieve your item. If it is oversized (bigger than a microwave), an associate will get it from the back for you. It arrives on the tray with your name on the order sticker.
Check Out With Me If you are in a Check Out With Me department (in select states only), you will receive a printed receipt from the sales associate who scans your items or an electronic receipt will be emailed to you when available. Paper receipts with barcodes can be scanned with the Walmart Pay app to get the receipt into your Savings Catcher account.
Best Accounting Practices for Business Owners
Separate Your Accounts
At Greenback, we recommend keeping personal expenses separate from business ones whenever possible. It improves your tax compliance and prevents mixing assets. Having consumer credit cards and non-commercial accounts set aside only for your job or business use helps track and separate your expenses if you don't have commercial credit cards or business bank accounts yet.
Use Debit and Credit Cards for Business Expenses
Use debit and credit cards whenever possible so that it is easier to track by method of payment using the last ****4 digits. Walmart gift cards can help plan ahead, and control funds for expenses but they may not be tracked on the receipt by the last ****4 digits. Walmart gift cards are non-refundable or returnable but the value or balance never expires and they can be reloaded. There is no monthly fee to maintain them. In general there are some prepaid, reloadable, or secured cards that may include the last ****4 digits on your receipt. It depends on the card type and the store. Purchases made with virtual wallets like Apple Pay, and Samsung Pay do not track by card number so they are basically anonymous. We do not recommend paying with a virtual wallet. Chase Pay can be connected to Walmart Pay but your receipt may not be trackable by the last ****4 digits.
You can use Walmart Gift Cards and eGift cards at any Wal-Mart Store in the U.S. or Puerto Rico, including Sam's Clubs (for wholesale club members) and participating Murphy USA stations. You will need the PIN for online purchases (in the bottom right corner under the silver scratch-off area). You can replace a card that doesn't have one. You will need a paper printout or a real card for purchases at Murphy USA stations. They will replace your paper printout with a plastic card. Remember that gift cards may not be trackable by the card number.
How to Apply for a Walmart Corporate Account
To apply for a Walmart Corporate Account, you need a an existing consumer Walmart.com account already. They are for purchasing Walmart Gift Cards only and not for regular products. Corporate Account holders can purchase or reload Gift Cards right from the website, 24 hours a day. We recommend them to keep your expenses categorized and to control spending easily. Just use different gift cards. They can be tracked by the last ****4 digits. Apply Here: Corporate Accounts
PO Numbers for Corporate Gift Card Orders
When ordering corporate gift cards, Walmart allows PO numbers to be added to orders. If you would like your PO numbers tracked on your receipts, just send a request to Greenback: support@greenback.com
How to Check Your Gift Card Balance
Remember that your Walmart Gift Card balance is only an estimate. Occasionally an update can be delayed. You can view your balance online or call 1-888-537-5503. You can also view the Walmart Gift Card's transaction history to see if all the transactions for the Walmart Gift Card are listed. Gift cards can be used for online purchases at Walmart.com, VUDU.com and in-store purchases at Walmart stores in the US. If you are a Sam's Club member, they can also be used at SamsClub.com, and Sam's Club stores in the US. Walmart Gift Cards. The value ie: the balance never expires. However, they are non-refundable and cannot be replaced even in cases of loss or theft.
How to Find Your Gift Card PIN
Tax Exempt Purchases
Walmart's Tax Exemption Program (WTEP) program makes it possible for customers to apply their tax-exempt status to eligible purchases at Walmart automatically. Remember that not all purchases are tax exempt even when you are approved for the WTEP program. Sales tax may still be charged or may be applicable in the future. It depends on your business location and state. You may need to pay the state sales tax for purchases at tax time so please consult with your tax advisor or accountant. Walmart Tax Exempt Application
Do not mix personal with business if you are making tax exempt purchases. You may be required by law to pay for Walmart orders using your organization's payment method (e.g., a company credit card) and not a personal payment method (e.g., a personal credit card). If you make tax exempt purchases with a tax exemption certificate those purchases must be paid with the tax-exempt organization's funds. You must comply with such requirement to the extent required by law. "If you are a retailer, please only select items you will purchase for resale...Items used or consumed in your business, such as office supplies, will not be sold tax-exempt." You can email the Tax Exempt Team at taxexempt@walmart.com for more information on which business entities and products are eligible.
Apple products are not available for tax-exempt purchases. Tax-exempt status is only for certain products where applicable. Pursuant to Walmart's contract with Apple, Inc., no Apple products can be sold tax-exempt to educational entities or for resale purposes. As a result, Walmart cannot refund the sales tax on any purchases of Apple products, if the purchase was made by an exempt educational entity or a business with the intent to resell the product.
Taxable & Non-Taxable Purchases
As a Walmart customer, remember that even if you were not charged sales tax at the time of an online purchase, you are still required to pay it at tax time. Unless it is an exempt purchase or the state doesn't charge any sales tax at all, it needs paid. There are states that require online stores with click-thru nexus and have met sales thresholds to collect it for them from you at the time of purchase, rather than waiting for your payment at tax time. Certain products or services by city, county, or state laws also affect sales tax so please consult your tax advisor or accountant for assistance. Greenback makes sure that taxes are itemized on your transactions and uniquely handled throughout our platform for purchases that are taxable, non-taxable, and tax exempt.
Tax Compliance
It's imperative that you store your receipt data for at least 3-7 years (or indefinitely for some receipts) for tax compliance. Some online stores may archive up to only 90 days. According to State Farm, receipts are needed to help you file an insurance claim, make coverage decisions, secure a settlement, or verify property loss for taxes in case of fire, flood, or other casualties. Greenback recommends automating all of your receipts from all of your vendors, shops, and marketplaces so that you can be worry-free.
How to Use SavingsCatcher
For in-store purchases only, and not for online orders. To check your SavingsCatcher balance, open the app on your mobile device or go to savingscatcher.walmart.com on your smartphone. You can still pay with cash at checkout if you wish. Just use the egiftcard balance first, and then pay the remainder with your choice. If you have receipts emailed to you and would like to submit them to SavingsCatcher just click on the "Submit eReceipt Now" button within 7 days of your purchase. Walmart Pay makes it easy for you to claim your SavingsCatcher rewards by allowing you to automatically redeem rewards the next time you use Walmart Pay in the store. Just select SavingsCatcher in the app, view your reward dollars, and turn on "Auto-redeem to Walmart Pay." This will automatically store your SavingsCatcher eGift Card as a payment method in Walmart Pay. No more hassle of printing off and carrying around your SavingsCatcher barcode for the cashier to scan like before! Learn more about SavingsCatcher
How to Use Chase Pay
In order to use Chase Pay at Walmart, you will need to connect it to Walmart Pay. Download the Walmart App and link or add your Chase Pay with your login credentials within the Walmart App. Just tap on the payment icon within Walmart Pay to pull up your payment options. Next, select Chase Pay and login to Chase Pay with your Chase.com user ID and password. Chase Pay is now enabled within Walmart Pay! If you want to pay virtually, this is the best choice since your receipts will still be available. However, they may not be trackable by last ****4 digits of your cards. We do not usually recommend digital wallets since they are anonymous transactions and can't be tracked. Remember that Chase Business and Commercial customers are currently not eligible to use Chase Pay.
How to Make Returns with Apple Pay or Samsung Pay
We recommend avoiding digital wallets since there is typically no identifying information captured at the time of the sale or at the card reader. If you have a return, the receipt may be possible to look up at the store but it may not since anonymous purchases can't be tracked. Paying with a virtual wallet is usually anonymous. Even Samsung Pay states "Please remember to keep the original receipt you received from the merchant at the time of purchase as the transaction details listed in Samsung Pay are not an official receipt." To make a return, use the original card or the last 4 digits of your virtual number in the app. You will still need to provide your store receipt. We recommend using Chase Pay or your original card whenever possible. That way Greenback will always be able to automatically fetch your receipts for you.
How to Use Walmart Pay
Download the Walmart App onto your mobile device from Google Play or the App store.

Link any valid major credit card or prepaid cards, and up to 5 Walmart Gift Cards, and eGift Cards. You need at least one saved. You can choose which one to pay with at checkout and switch one out if you need more cards than the limit. Switch off your gift card if you don't want that value used first. Walmart Pay cannot be directly linked to checking accounts. Set up a 4-digit passcode and optional Touch ID to use your fingerprint on your device. This ensures that in case of loss or theft, only you can use your device to pay. Your device and cards are secure, they can't pay without that information. PINS are not tied to your Walmart.com account.

At checkout, scan the QR code on the screen of the card reader with your device. You'll hear a tone and "TRANSACTION COMPLETE ERECEIPT SENT." EReceipts are automatically submitted to SavingsCatcher. If you need to use two payment methods such as cash and a credit card, use Walmart Pay as the last payment method. You can also ask for a paper receipt. Just ask the cashier to print a reprint before leaving the register.
Note to Walmart Employees: If the QR Code does not work, Enter the 803 Action Code to print out a QR Code for the customer to scan with their phone. Discard this QR Code after the customer successfully scans it. It is only valid for one transaction.
Pro-Tip: Walmart Pay can not be used for cash back, at fuel pumps, Sam's Club, or be directly linked to a bank account. Walmart Pay is not a rewards program but your receipts automatically go to SavingsCatcher to give you store credit. You can still use any cards added to Walmart Pay as usual if you wish. So a Walmart gift card linked to Walmart Pay will still work at Murphy USA. Go to Walmart Pay or call 1-800-WALMART if you have more questions about Walmart Pay
How to Pay with Cash for Online Orders
In select cities, there are in-store kiosks to pay with cash or cards near the electronics dept or a sales associate will have a "Check Out with Me" handheld device to accept cards only in select departments. Employees can look up items not in-store and make an online order for you right there.
How to Pay In Person for Online Orders
Just choose "Pay with Cash" if you prefer to pay in person at the store rather than online. At any register you can pay with Cash or by Check, Walmart Gift Card, Money Order, EBT (must select cash option in debit reader), or any credit/debit card accepted in-store.
How to Do a Walmart Grocery Order
For Walmart.com/grocery orders, there is a $30 minimum purchase. Pickup is always free. No price markup. No subscription fee.Orders are fulfilled by Walmart personal shoppers. You will receive a phone call when your order is ready and where it will be. When you arrive at the reserved parking spaces for online pickups, call the designated number to notify a store associate. They will bring your order and load it into your vehicle.
Orders placed by 2AM will be available for pickup from 8AM and orders placed by 10AM will be available from 1PM. Pickups can be scheduled seven days a week, up to three weeks in advance. You can save favorites and future shopping lists, making it even easier to order the next time.
Grocery Returns Customers can return items at the time of pickup or return items later to a Walmart store.
How to "Skip" the Line at Walmart Customer Service
Easy Returns Receipt
If you would like to make it faster to return an online purchase, and want to return it to a store in person, just print out an "Easy Returns Receipt" right from the Walmart website. Take the printed receipt with you when you return the item, and it will be treated just like an original store receipt. Or you can print out your receipt directly from Greenback where it is easy to search by product, date, etc.
Express Return a Walmart In-Store Purchase
Use the Walmart App for faster, easier returns:
Download the Walmart App. Click the Services tab. Scan your receipt, use Walmart Pay or select Start a Return.

Start a return. Select the item you want to return. Follow the prompts onscreen.

Find the Service Desk in store. Join the Express Lane. Click Scan on the home screen. Scan the QR code at the desk.
Note: If you do not have your receipt or Walmart Pay, you can still return items in-store for an immediate refund or store credit. If you automate your Walmart receipts, Greenback will always have them available for you.
Return a Walmart Marketplace Online Order
For Marketplace returns, contact the seller directly. Check your account to determine if the item was sold and shipped by Walmart.com or one of their trusted partners. For more info, go to Marketplace Returns
Receipts with an IQ + Cloud Accounting
5 Reasons Why You Need Automated Receipts