Are you constantly searching for misplaced, faded Lowe's receipts? Aren't you tired of scanning or snapping photos? Luckily there are automation tools that can help you get a handle of the job. Whether you are a contractor, a DIY weekend warrior, or accountant, you can automate your Lowe's receipts to streamline your construction accounting. Greenback auto-fetches your original, itemized receipts and shows them all on one dashboard or syncs them to QuickBooks or Xero. With the Greenback app, you can free up your time for more important things like building stuff. Let's start automating!
Everything begins with your MyLowe's Member Card number. It's the key to setting in motion the flow of your receipt data. Most retailers can track your purchases for you by either your loyalty card (eg. Lowe's) or your credit card (e.g. Home Depot). Once you start using a MyLowe's card with every purchase, it's easy to automate them! You'll have access to your complete purchase history of all in-store, online, and in-app purchases. Initially you get an extra number in your MyLowe's account so that you can track and organize by project, job location, or employee. You can add more cards too if you want. That means you can associate as many member numbers with your phone number as you like.
Sign up for free at any Lowe's store location (during checkout or visit the Customer Service desk) or go to Lowes.com. If you have any trouble online, just call 1.800.445.6937. You can use the cards immediately. You get a virtual card with a default account number and a physical card with a different account number, two card stickers and a key fob. At checkout, just give the associate your phone number (or card). They will ask which card you want your purchase to link to (or scan your card) so your chosen account number prints on your receipt. Make sure to tell them which member number if the cashier forgets to ask you.
Pro Tip: Items returned in-store will remain visible in your purchase history.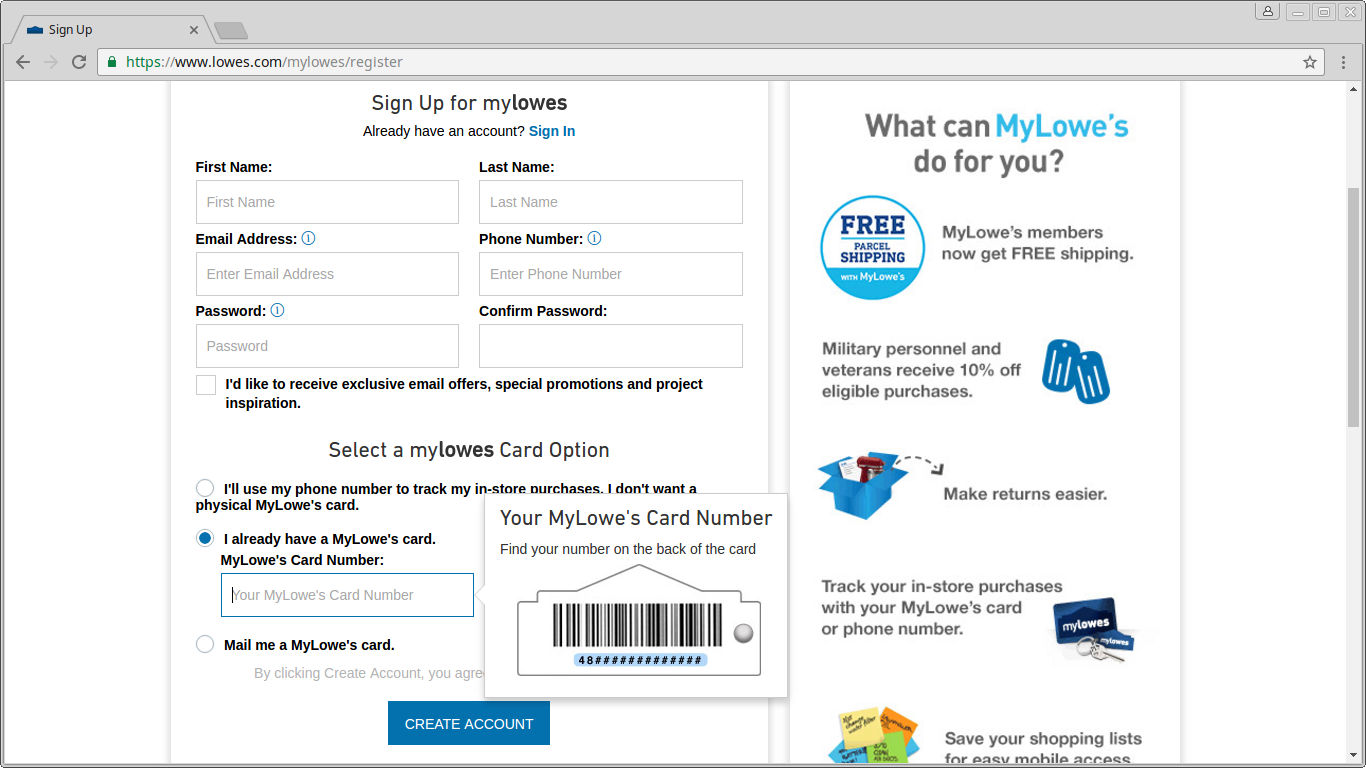 Even though it was scanned at the register, you still need to sync your new physical card to your MyLowe's member account. You will need to activate it in order to see any new transactions accurately in your Purchase History.
Sign in and click on your name at Lowes.com. Scroll to the bottom of the page to find MyLowe's Card Number and click on Manage MyLowe's Cards. Next, look for Register MyLowe's Card at the bottom. Input the number on the back of your card. You'll see a "Great Work. You're now ready to start tracking your in-store purchases" message and your recent purchases. If your receipts do not display, you may need to wait for the system to update. You will even see your cash purchases! It may appear that you only have one account number listed in your Account Summary but after the system updates, two should display when you click on Manage MyLowe's Card and it will change to plural Manage MyLowe's Cards.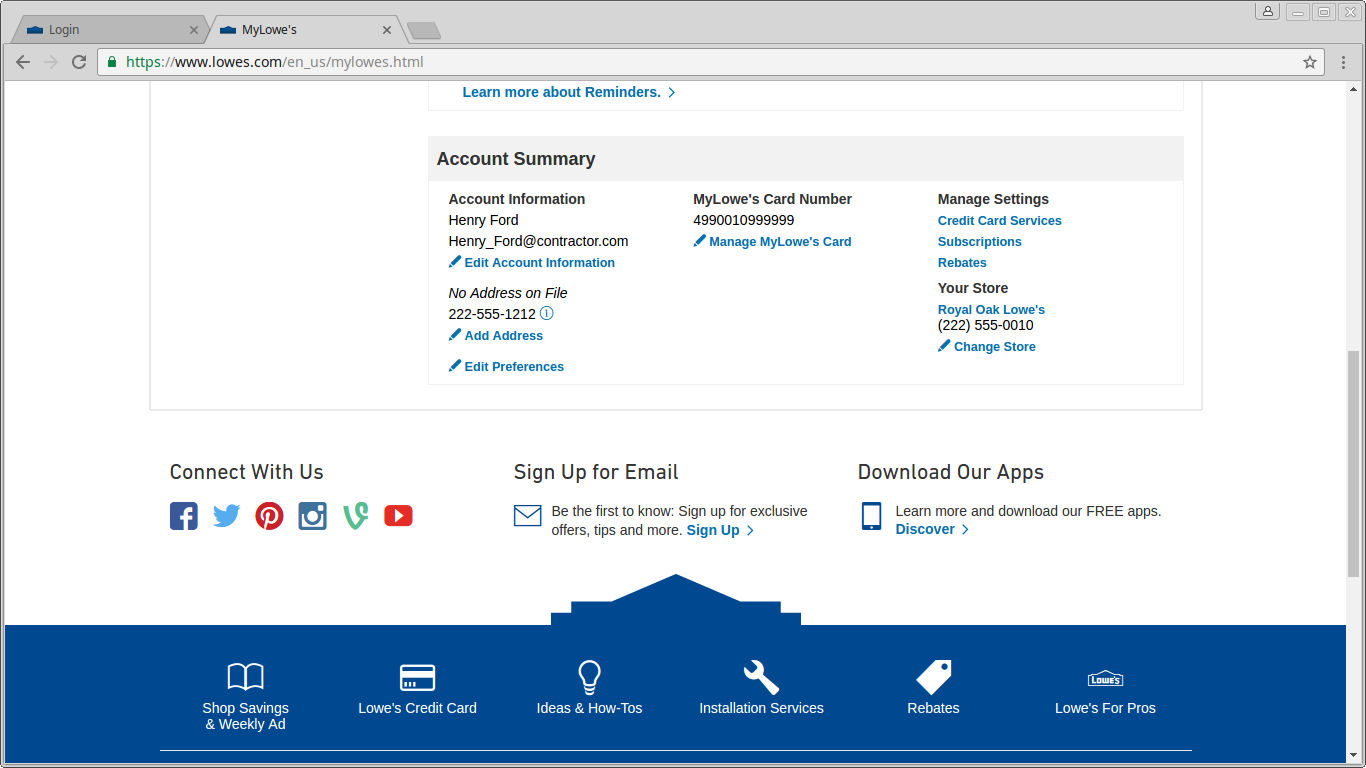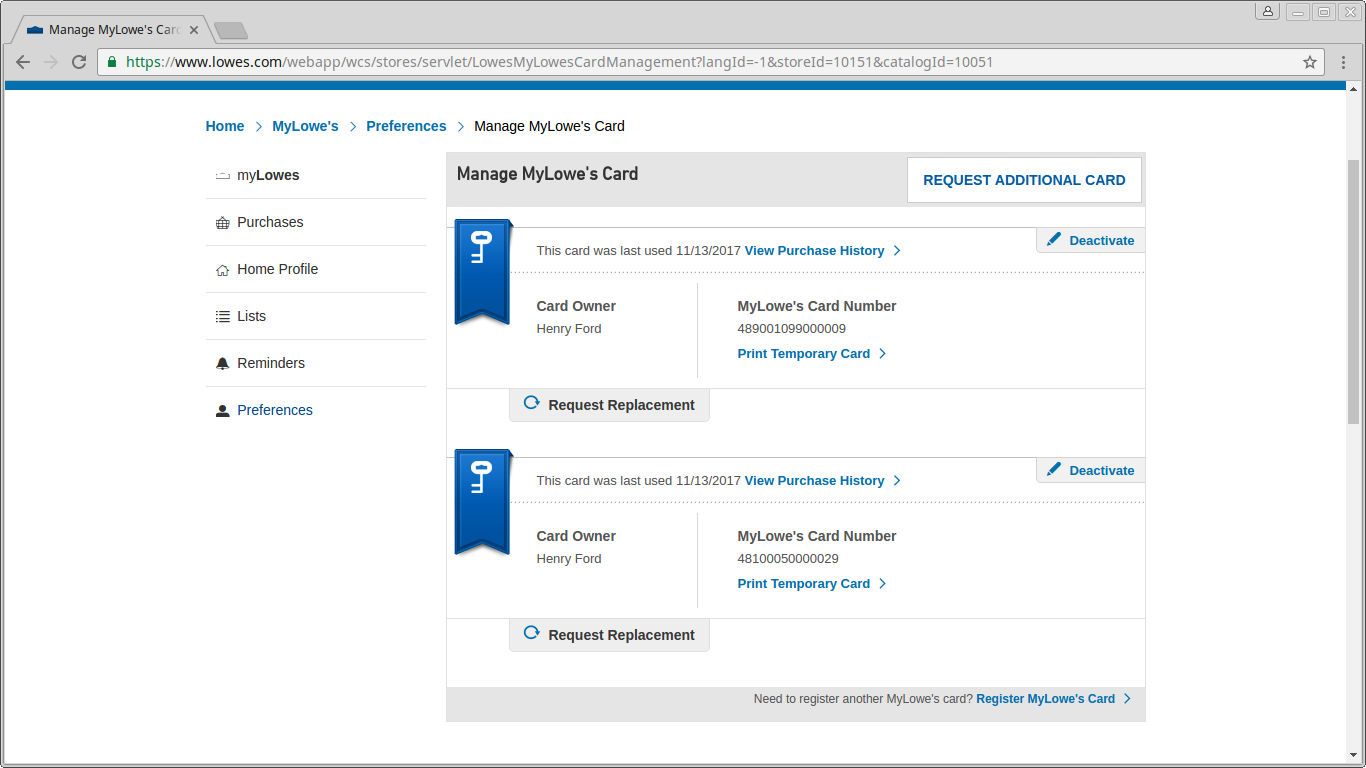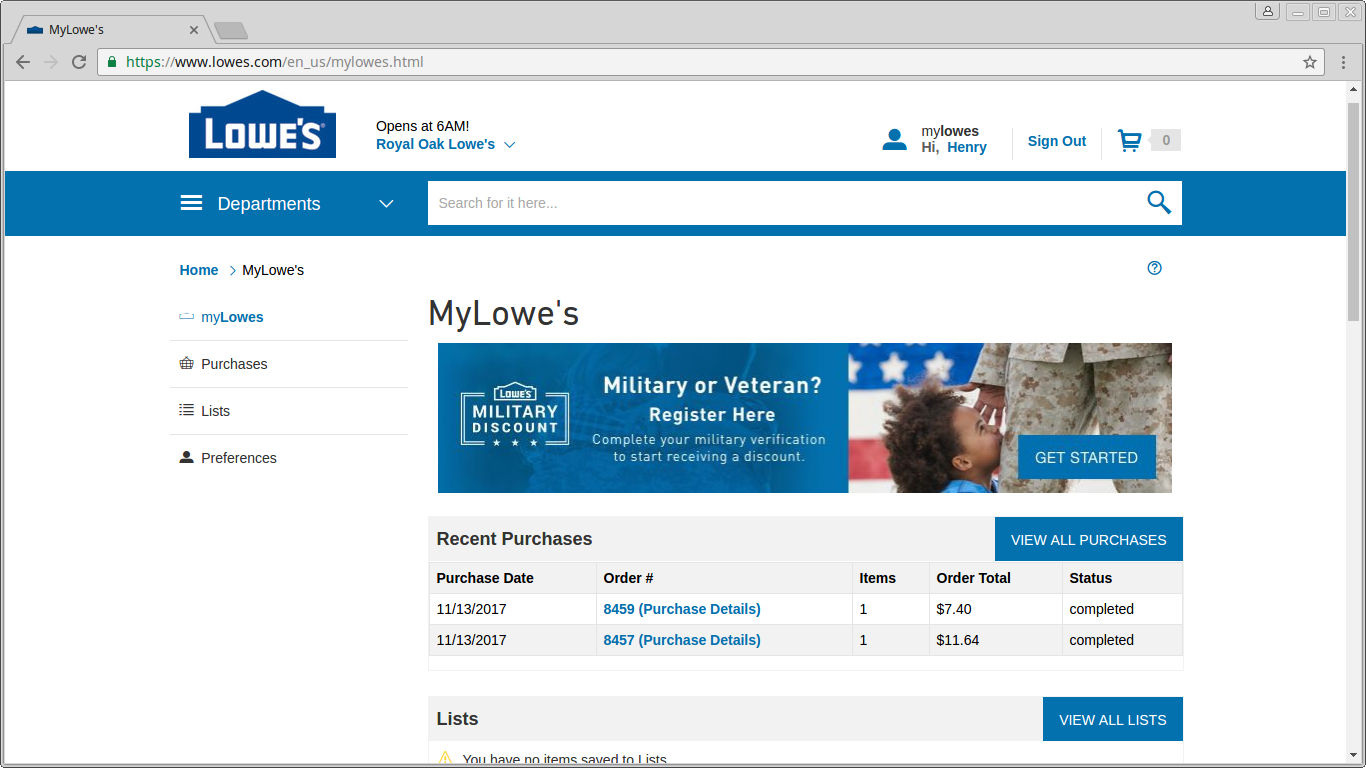 Login to your Lowe's account to test your credentials if needed.
Sign up for a Free or Premium Greenback account at Greenback.com
Connect your Lowe's account. (You can add more than one.)
Connect your accounting platforms. (optional)
That's it!
As soon as you connect your accounts, Greenback fetches your receipts automatically. You can see them all on your dashboard or export them to your accounting package. For premium accounts, Greenback exports support billable customer, billable expense, class tracking, and locations/departments in QuickBooks and exports to Xero include billable expenses and tracking.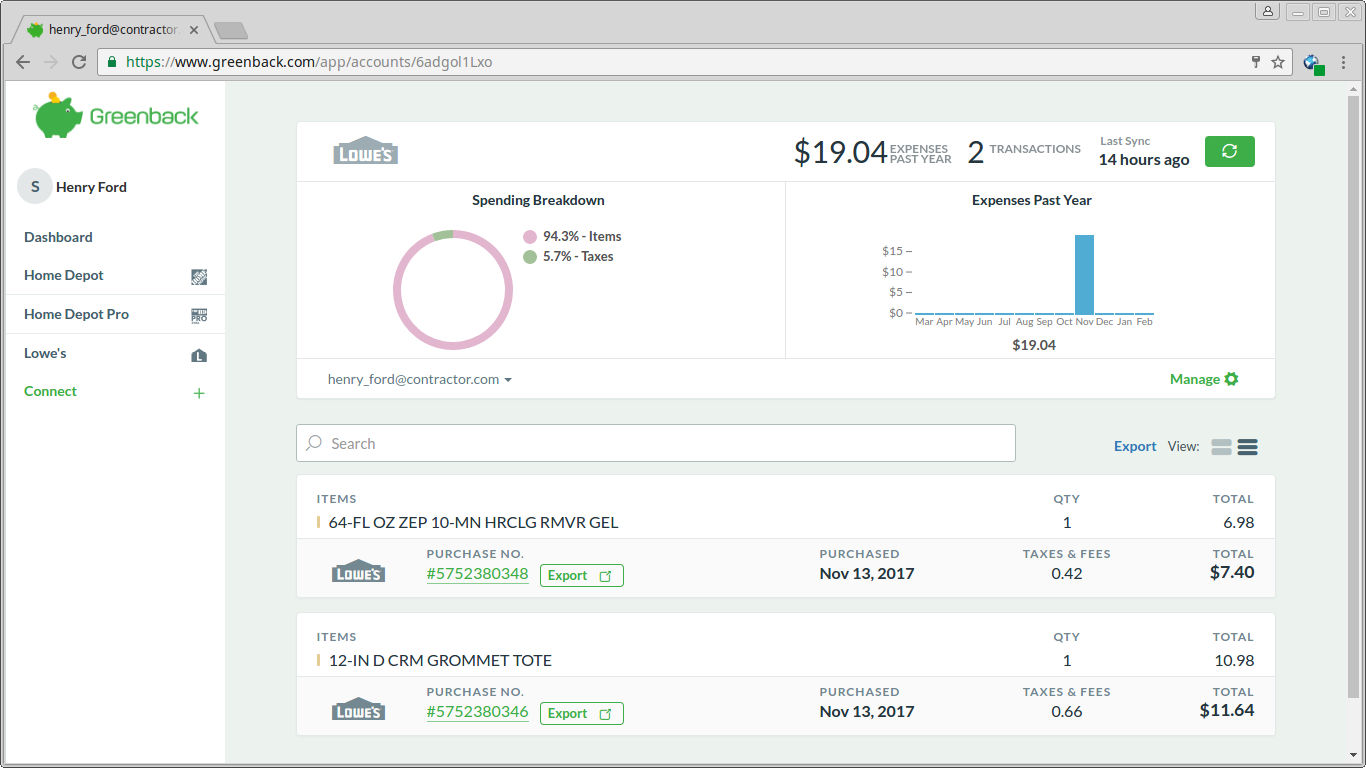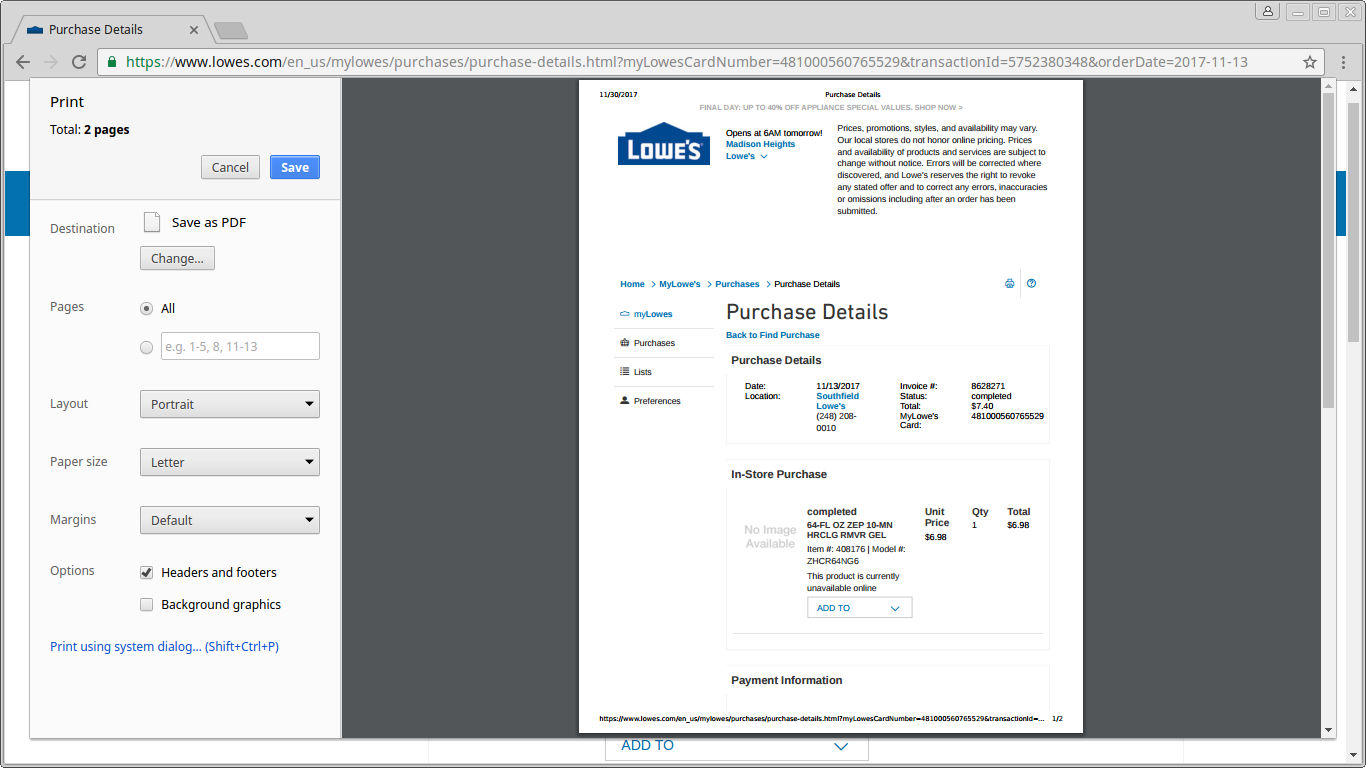 Remember that your phone number or your member card are required in order to track your receipts. Only receipt data shown in your "My Account" can be fetched. If you have other account types, they are not supported (e.g. Lowe's for Pros credit card or commercial/business account, Lowe's PreLoad Pro Services, Lowe's PreLoad Card, Preload App for Expense Management, Lowe's Advantage Cards, or Accounts Receivable). However, you can use your phone number or loyalty card for every purchase (or even manually add a receipt to your Purchase History with just the transaction number) to automate your individual receipts. If you have any questions, please email us at: ping@greenback.com.
Receipts may take up to 24 hours to display in your account even if they were scanned with the Lowe's app. Remember that you need to activate and sync your card to your account first or they won't display either. If account numbers don't match, they may display incorrectly or disappear too. Check that the MyLowe's Card Number on your paper receipt matches your physical card, then go to MyLowe's Card Number, and click on Manage MyLowe's Card to add your card. Remember that you have two card numbers to choose from—a virtual one, and a physical one. For online purchases, make sure to always login to your account rather than as a guest when ordering and refer to the e-receipt for return instructions. Items returned in-store will remain visible in your Purchase History.
Pro-Tip: You can manually add old or non-tracked receipts (ie: receipts without a MyLowe's card number) to your Purchase History. Just go to Purchases and Add Purchase and then enter the transaction number (ie: Invoice#), Purchase Date, and Store number.
We don't recommend paying with Apple Pay or mobile wallets since they are anonymous like paying with cash. If you do, be sure to always provide your loyalty card or phone number in order to track your Lowe's receipts. Lowe's doesn't accept Apple Pay at the moment but if they ever do, you will be ready with your MyLowe's card to track your receipts. Remember that a store can not look up a receipt unless it is tied to a loyalty card or phone number (e.g. Lowe's), or credit card (e.g. Home Depot).
It's imperative to store your receipt data for at least 3-7 years (or indefinitely for some receipts) for tax compliance. Lowe's only stores your receipts for 3 years (up to 5 years for major appliances with your phone number). According to State Farm, receipts are needed to help you file an insurance claim, make coverage decisions, secure a settlement, or verify property loss for taxes in case of fire, flood, or other casualties. We recommend using Greenback so that you can be worry-free.