CONNECTED ACCOUNTING
How To Automate Your Lowe's In-Store and Online Receipts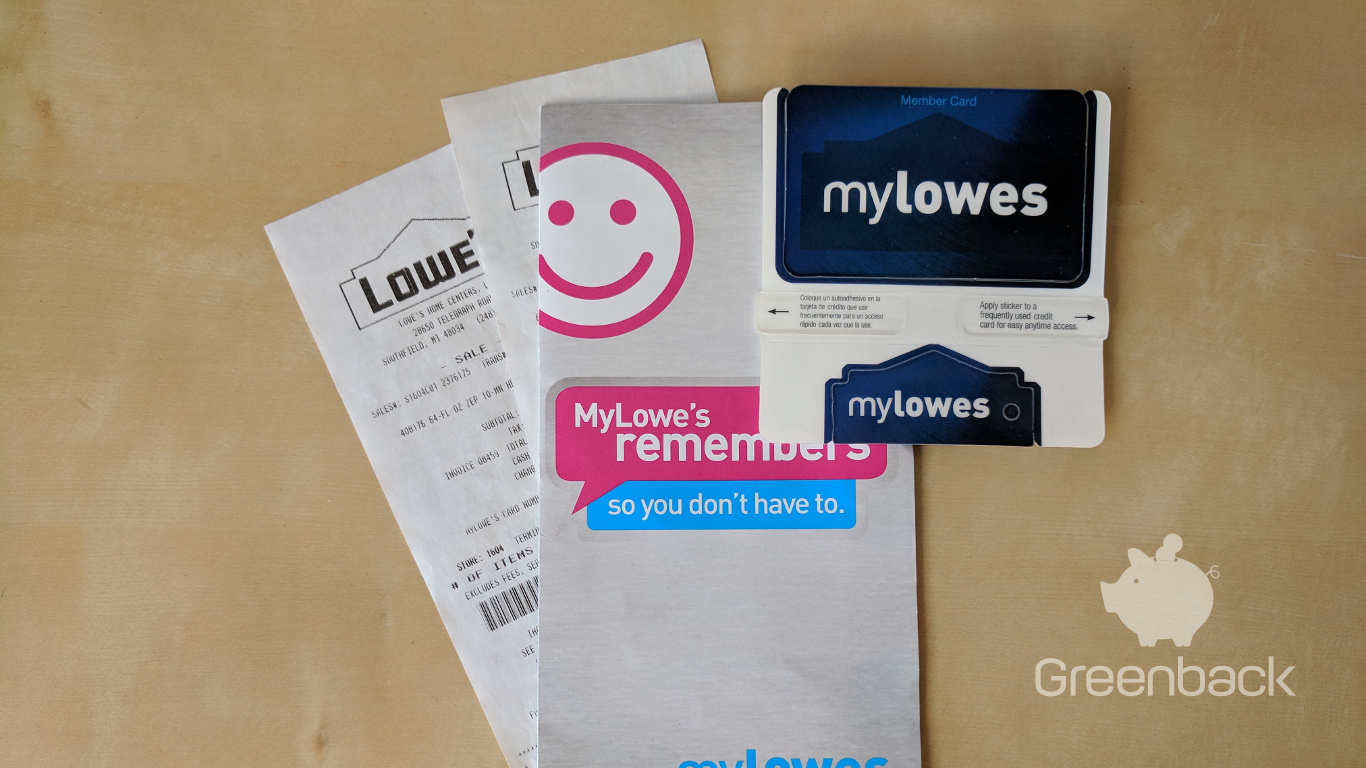 Overview
Tired of manually scanning receipts or snapping photos for bookkeeping, tax compliance, or invoicing? Constantly searching for misplaced, faded receipts? Whether you are a professional contractor, a DIY weekend warrior, admin assistant, or savvy shopper, you can automate your Lowe's receipts to streamline your record keeping. Sync your receipt data to your accounting platform to save time and money. Luckily there are automation tools that can help you get a handle of the job. With the Greenback app, you can free up your time for more important things like building stuff.
1. Let's Start Automating—Get a MyLowe's Member Card
Everything begins with your MyLowe's Member Card number. It's the key to setting in motion the flow of your receipt data. Most retailers can track your purchases for you by either your credit card like Home Depot or your loyalty card like Lowe's does. Once you start with a MyLowe's card and use it with all of your purchases, it's easy to track your receipts and automate them. You'll be able to make returns without a receipt, and you'll have access to your complete purchase history of all in-store, online, and in-app purchases, and other tools and benefits. Initially, you even get an extra number in your MyLowe's account so that you can track and organize by project, job location, or employee. And you can add more cards if you want to too. That means you can associate as many member numbers with your phone number as you like.
Sign up for free at any Lowe's store location (during checkout or visit the Customer Service desk) or go to Lowes.com. If you have any trouble online, just call 1.800.445.6937. You can use the cards immediately. You get a virtual card with a default account number and a physical card with a different account number, two card stickers and a key fob. At checkout, just give the associate your phone number (or card). They will ask which card you want your purchase to link to (or scan your card) so your chosen account number prints on your receipt. Make sure to tell them which member number if the cashier forgets to ask you.
How to Automate Lowe's for Pros Receipts
If you have a Lowe's for Pros credit card or commercial/business account, or Accounts Receivable, just follow steps 1-2. Remember to always use your phone number or loyalty card when making purchases to automate your receipts. See below on how to add a receipt after the fact.
Pro Tip: For returns of online purchases, please refer to your e-receipts.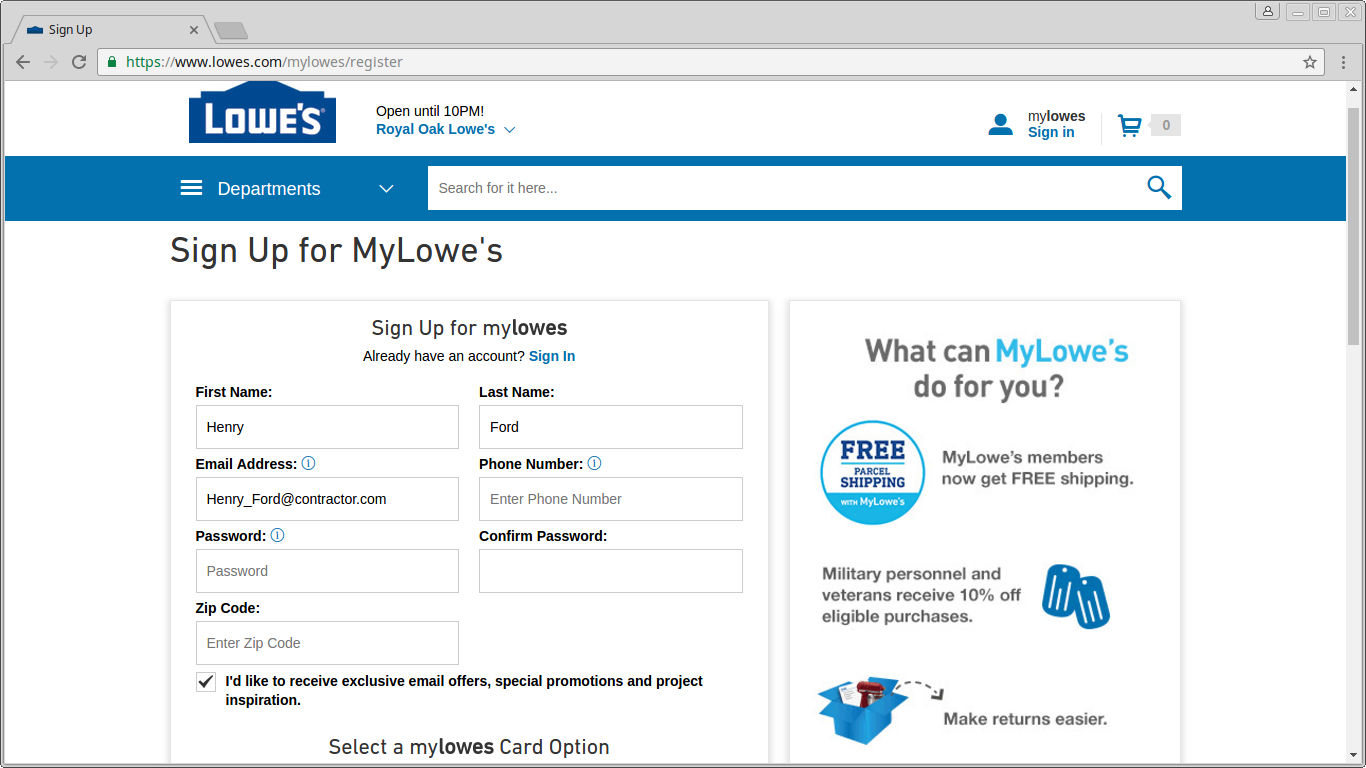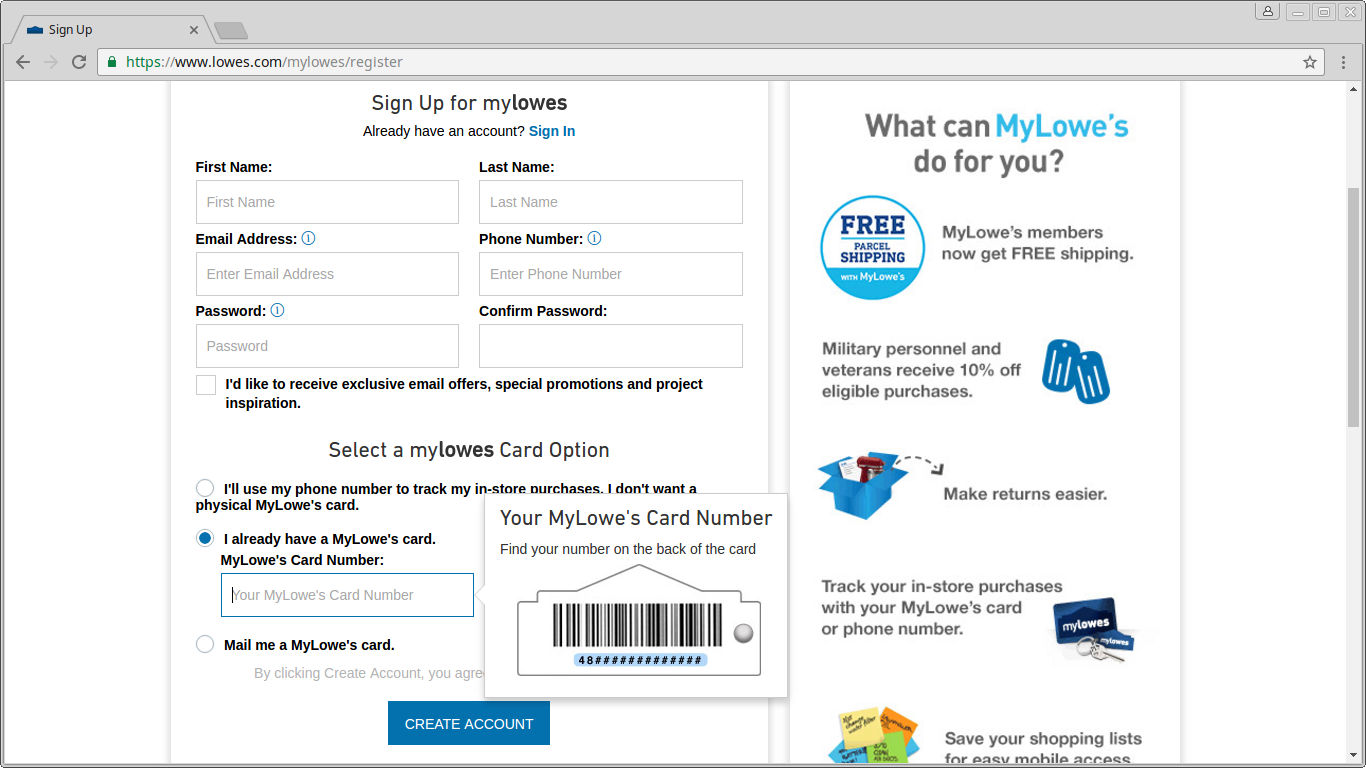 2. Activate Your MyLowe's Member Card
Even though it was scanned at the register, it doesn't sync your new physical card to your MyLowe's member account. You will need to activate it in order to see all of your transactions accurately in your Purchase History.
Sign in and click on your name at Lowes.com, then scroll to the bottom of the page to find MyLowe's Card Number and click on Manage MyLowe's Cards. Next, look for Register MyLowe's Card at the bottom. After inputting the number on the back of your card, you'll see a "Great Work. You're now ready to start tracking your in-store purchases" message and your recent purchases. If your receipts do not display, you may need to wait for the system to update. You will even see your cash purchases which usually aren't trackable. It may appear that you only have one account number listed in your Account Summary but after the system updates, two should appear when you click on Manage MyLowe's Card and it will change to plural Manage MyLowe's Cards.
Do you need a new card instead? Sign In, and go to MyLowe's Summary, Manage MyLowe's Account and click on Request Replacement.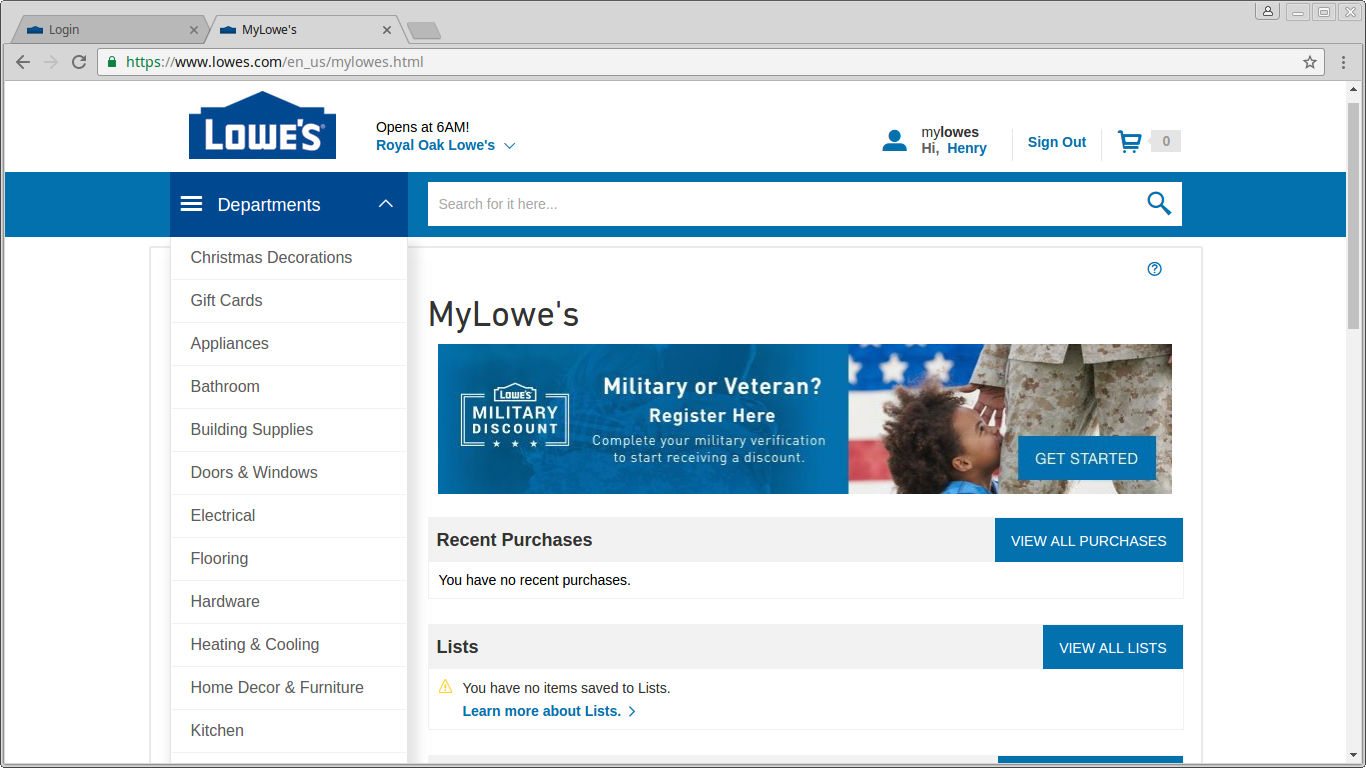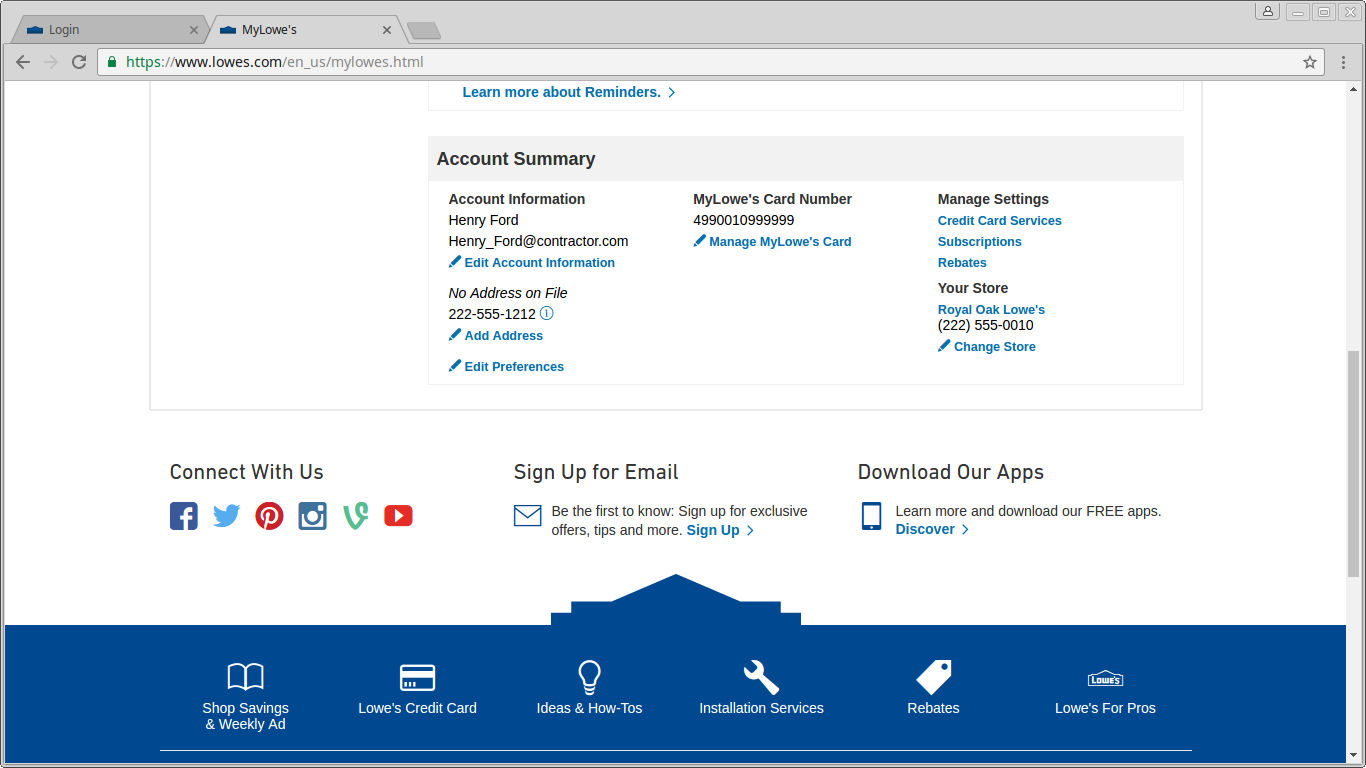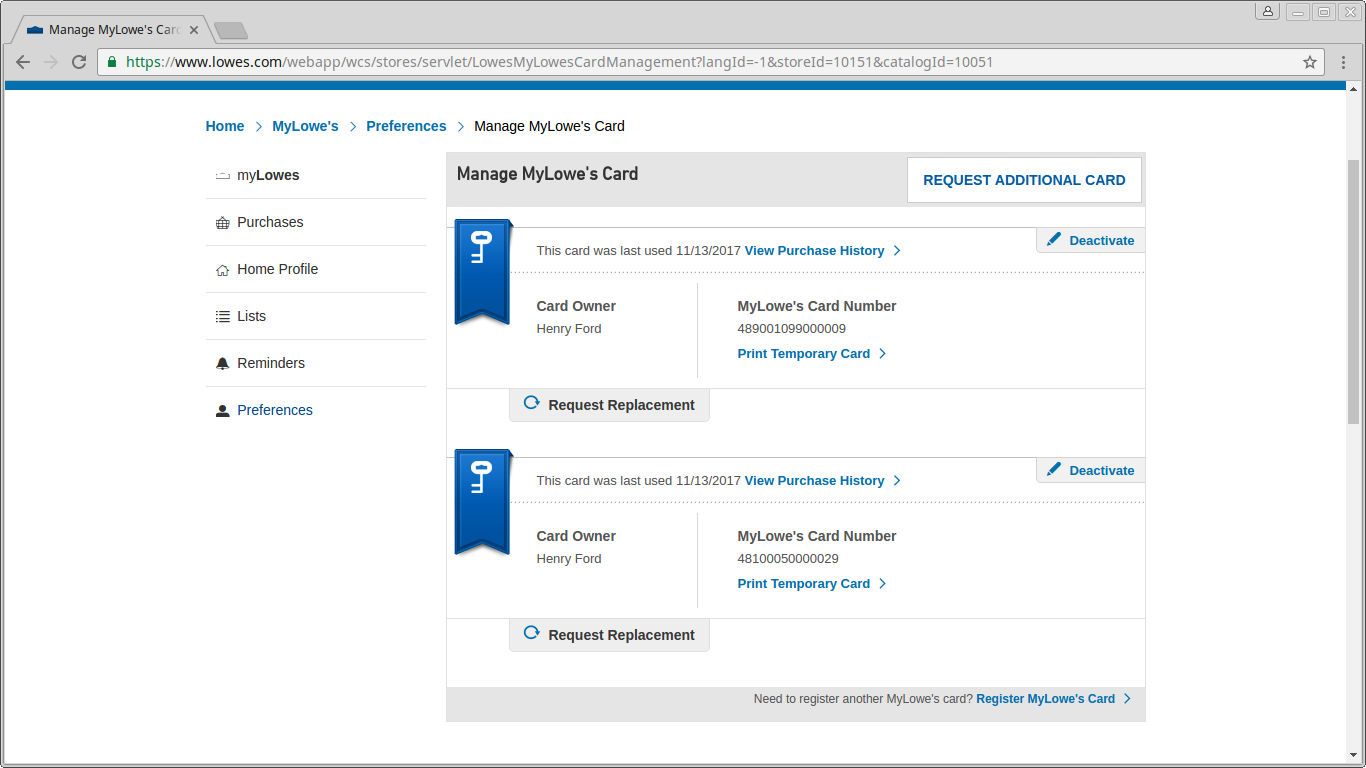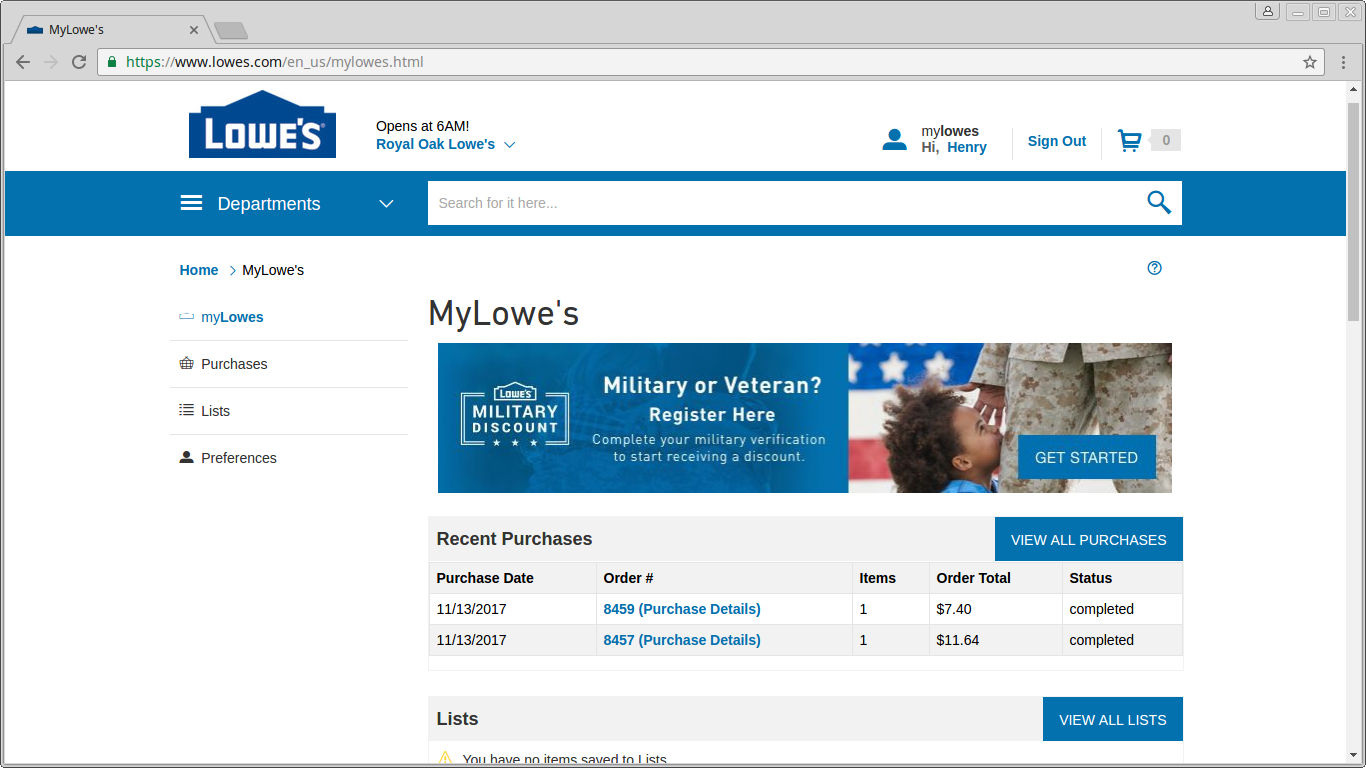 When to Add Receipts to Your Purchase History
Go to Purchases and then Add Purchase to add old, new, cash, or non-tracked receipts to your history.
For new tracked in-store purchases, receipts may take up to 24 hours to be displayed in your account. However, if your card wasn't activated/synced to your account first, your receipts can't display at all. Downloading the Lowe's app on your smartphone and scanning the barcode won't update your account quicker either. See Why aren't MyLowe's receipts displaying?
Pro-Tip: Items returned in-store will remain visible in your purchase history.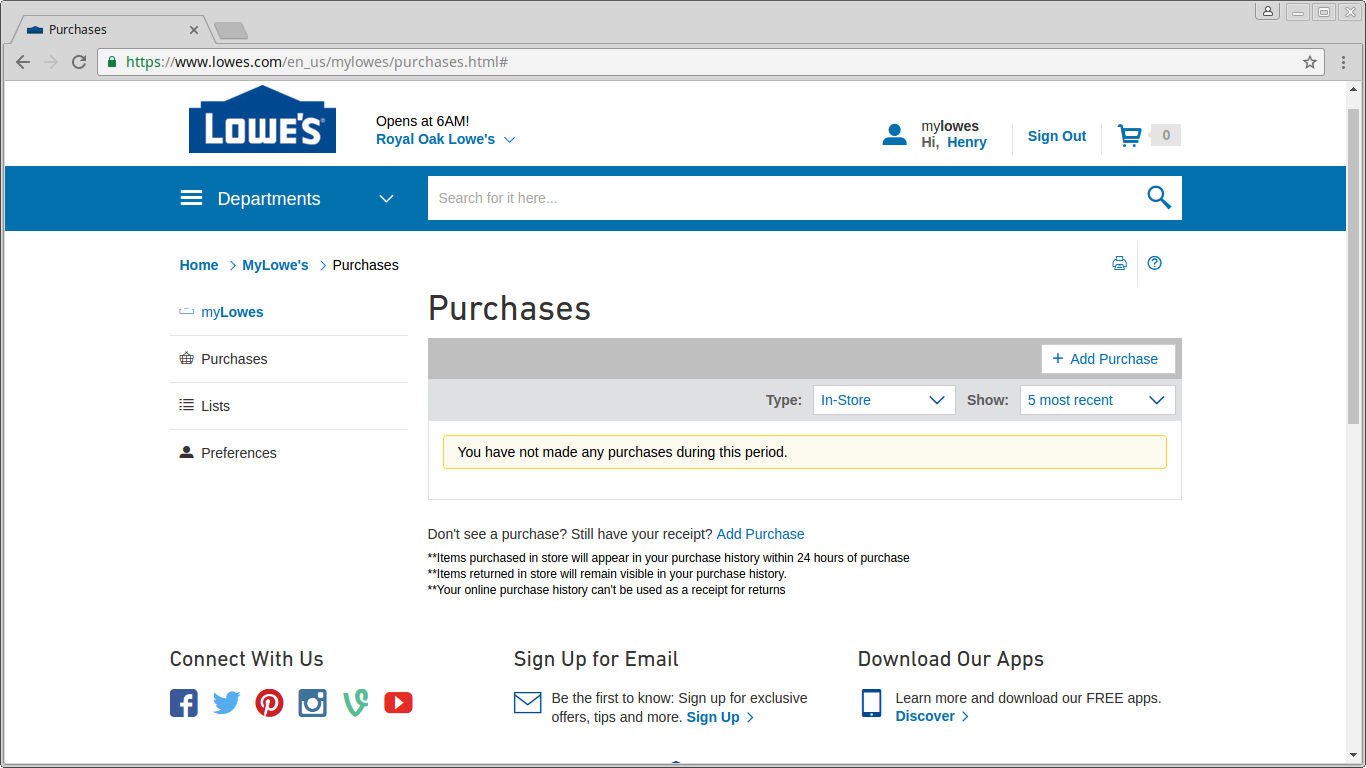 Why aren't MyLowe's receipts displaying?
Tracked receipts should always automatically appear for you. If you manually added a tracked receipt, it may display incorrectly and clear itself out of your history either because the account number does not match your paper receipt (ie: your card still needs activated) or it hasn't been 24 hours yet. Check that the MyLowe's Card Number printed near the Total on your paper receipt matches your physical card, then go to MyLowe's Card Number, and click on Manage MyLowe's Card to add your card. Remember that you have two card numbers to choose from or match to—a virtual one, and a physical one. If it was an online purchase, Lowe's can only track purchases you made while you are logged into your account.
Pro-Tip: You can manually add old or non-tracked receipts (ie: receipts without a MyLowe's card number) to your Purchase History and even Reprint a Lowe's Receipt! Just go to Purchases and Add Purchase and then enter the Transaction number (ie: Invoice#), Purchase Date, and Store number.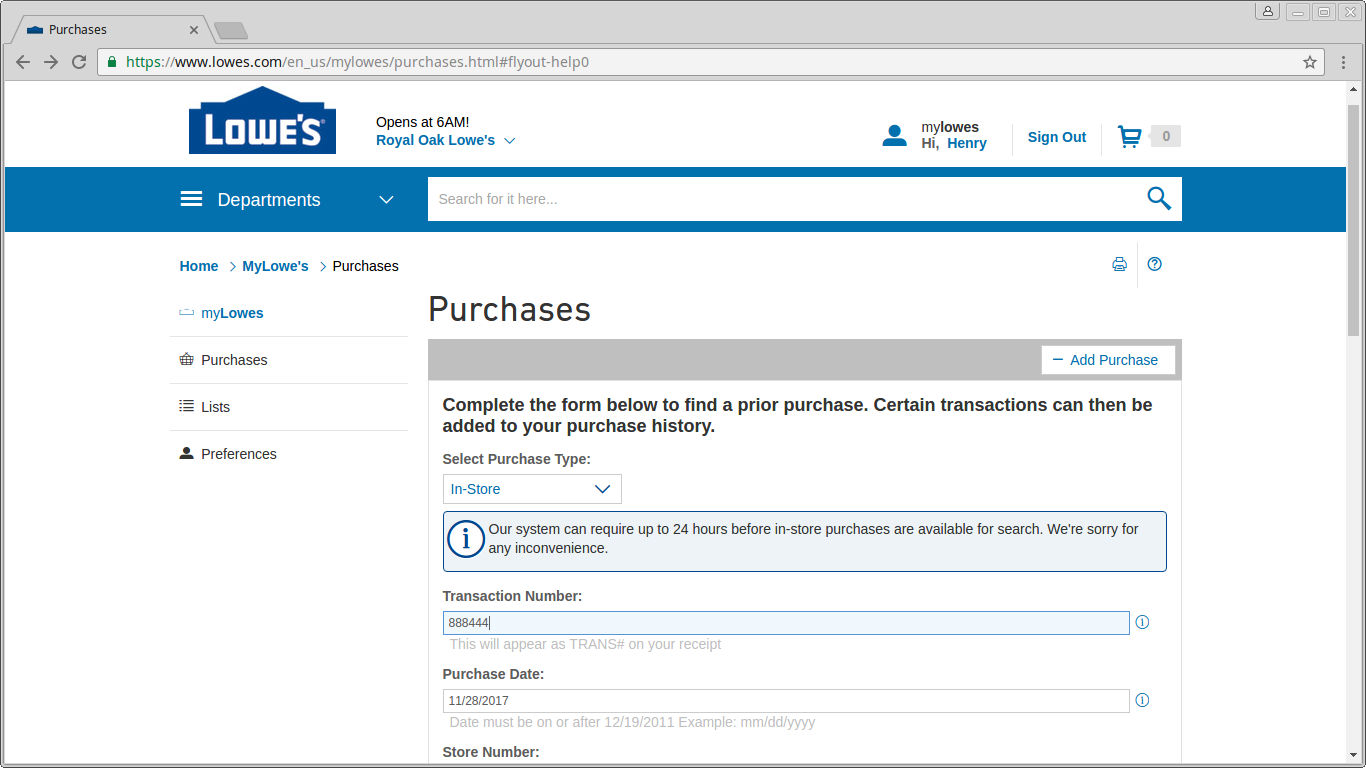 3. Export Your Receipt Data—Automate Your Accounting
To view or print your receipts, click on Purchase Details. But your adventure in how to automate Lowe's receipts doesn't need to stop there. You can export your receipt data and automate your accounting with the Greenback app. Greenback captures your original, itemized receipt data and syncs it to Quickbooks, Xero, Google Sheets, Excel, Concur, and more. Try it out at Greenback.com. See all of your Amazon, eBay, Home Depot, Menard's, and Lowe's receipts on one dashboard—powerful technology with time-saving automated features, and 100% accuracy.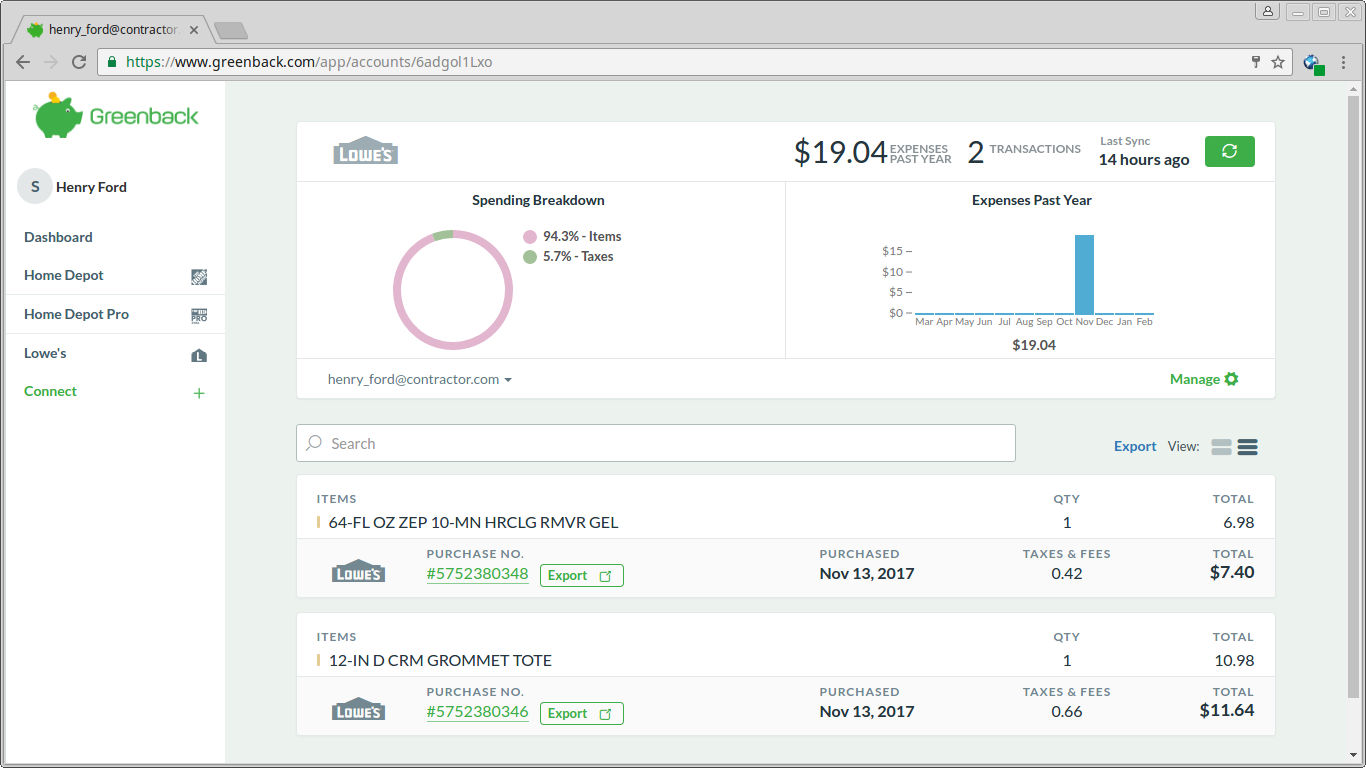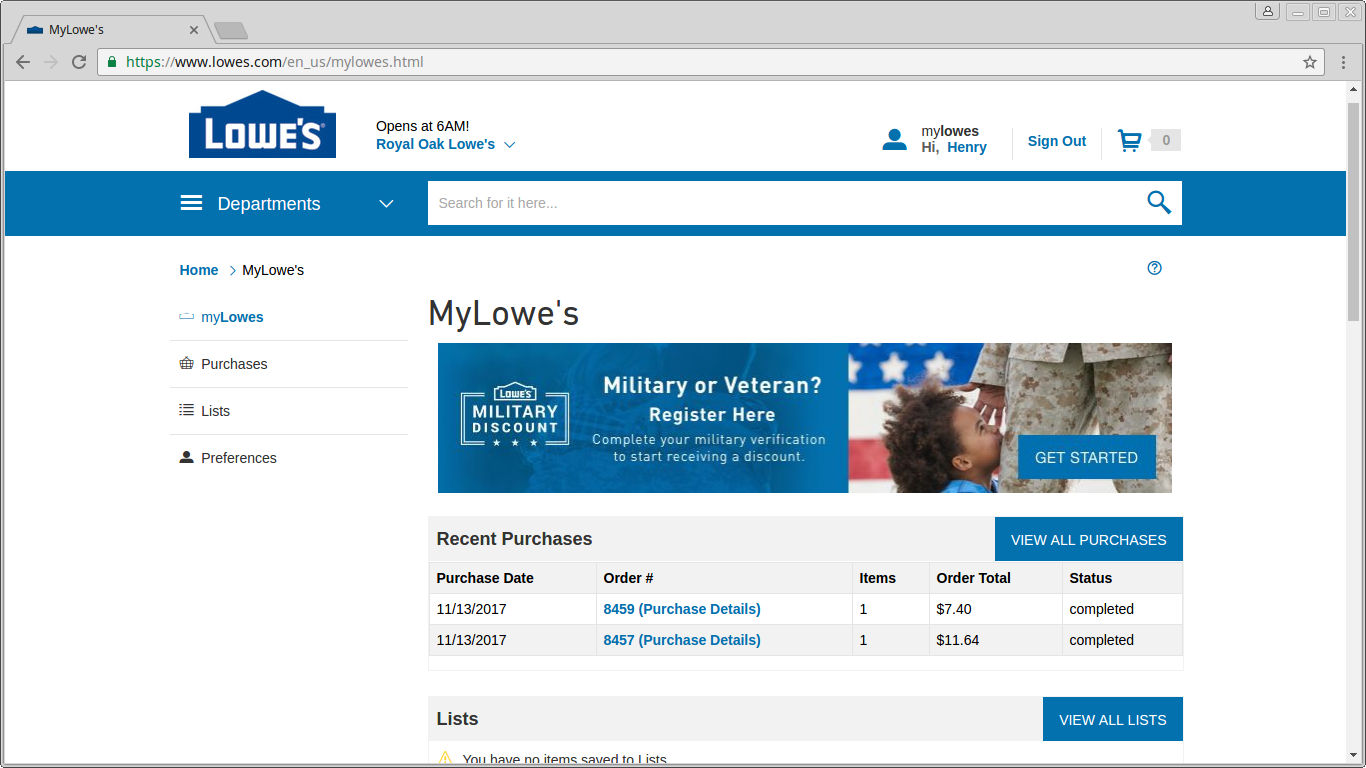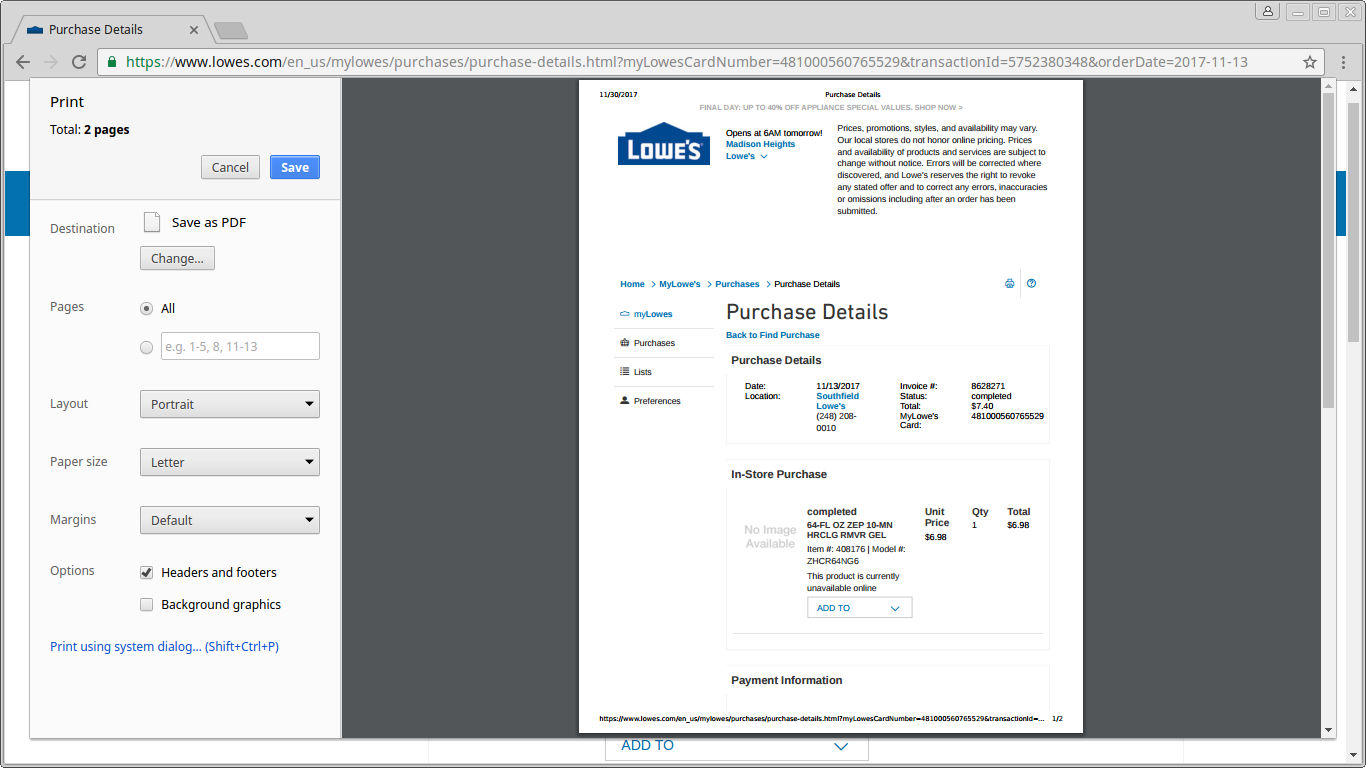 Manage Your Credit/Debit Cards
You do not need any credit cards on file in order to track your purchases. Your phone number or your member card are the tags for tracking. However, if you wish to expedite your online shopping, you can add your credit/debit cards. Go to Preferences, and then Credit Cards.
Apple Pay & Mobile Wallets
Greenback does not recommend paying with Apple Pay or mobile wallets but if you do, always provide your loyalty card or phone number in order to track your receipts. Contactless NFC payments are anonymous like cash so your receipts can not be tracked without a way to identify you. Lowe's does not accept Apple Pay at the moment. However, when or if they do, you will already have your MyLowe's cards available. Some vendors track by credit cards so it's helpful to remember the difference.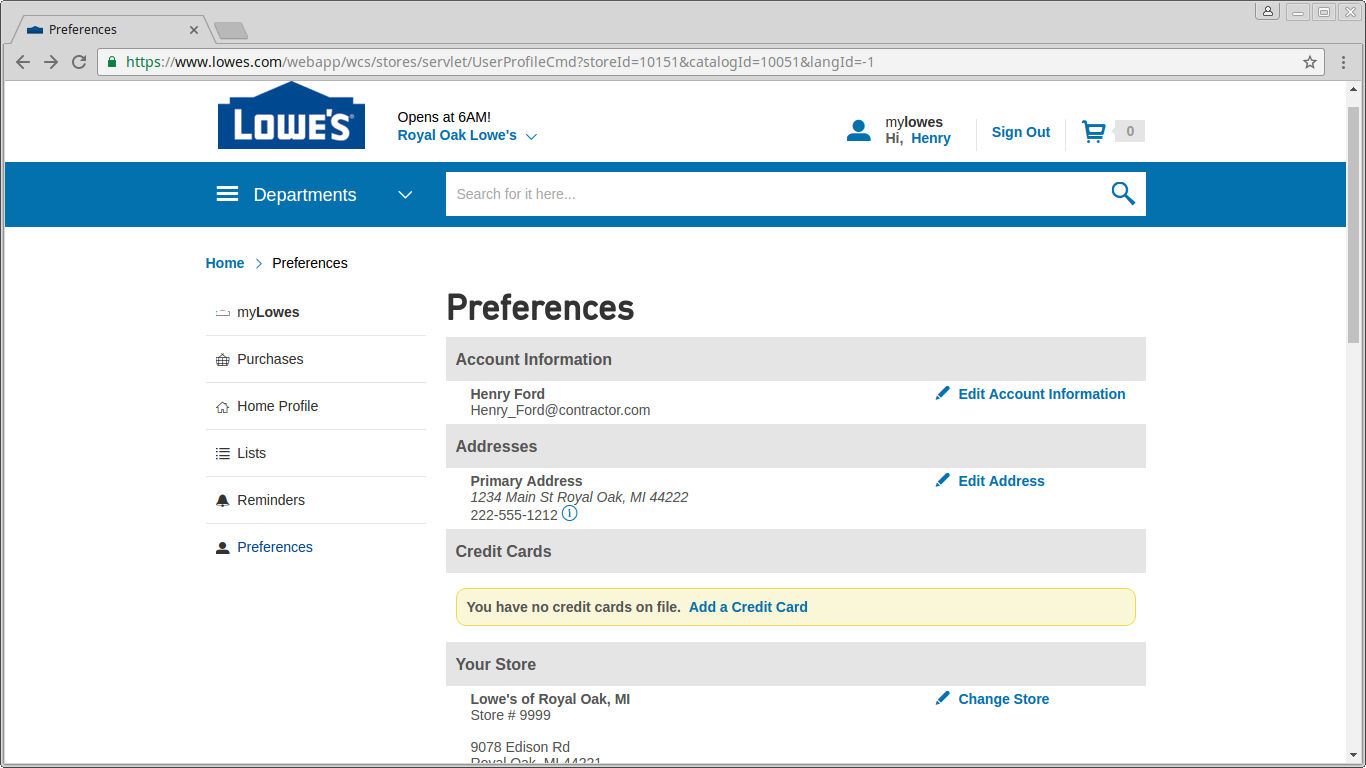 How do I find past or old Lowe's receipts?
Did you know that you can get receipts from discontinued credit cards, closed credit cards, and empty gift cards from the past 90 days? Visit your local Lowe's location with your credit card statement, checking account number, or debit card information. This is great for catching up on your record keeping or if you are looking for missing receipts that you need to reconcile. They can search for your past receipt and print a paper one out if there is no option to email it. Next, input it into your MyLowe's account and connect to Greenback to track it digitally. You will be able to view all of your construction spending, store or reprint your receipts, export, or sync to your accounting platform. Try it out at Greenback.com.
You can also call Lowe's Customer Care at 1.800.445.6937 to request a receipt for purchases made within 90 days. They will ask for the following: Name, Payment Method, If purchased with a Credit Card, and Name on the Card, Phone Number, Date of Purchase, and Store Location. They may also ask for the: Email Address, Mailing Address, Item Number, Model Number, Brand and/or Description of Product(s) Purchased, and Amount of Purchase.
After obtaining your receipt, you can manually add a non-tracked receipt to your Purchase History. Just go to Purchases and Add Purchase and then enter the Transaction number (ie: Invoice#), Purchase Date, and Store number.
For purchases made with a Lowe's Credit Card, Business Account, or Accounts Receivable, view your purchases online by logging into your credit account. Go to Lowe's Advantage Card. If you have any questions about how to automate Lowe's for Pros Receipts, Lowe's PreLoad Pro Services, the Lowe's PreLoad Card, the Preload App for Expense Management, or Lowe's Advantage Cards, etc, please email us at: ping@greenback.com.
How to Make a Warranty Claim Without a Lowe's Receipt
If you had your original receipt when you registered your product for the Manufacturer's Warranty and then purchased and registered an (optional) Lowe's Protection or Replacement plan (ie: extended warranty), you will need one receipt for the Manufacturer's claim and both receipts for the Lowe's Plan claim. IMPORTANT: Lowe's Service Advantage can look up original receipts for warranty work but if an extended plan wasn't purchased within 30 days from the date of purchase or delivery, the product is usually only covered for 1 year. They can not look up your warranty by the product serial number. Lowe's may store your receipts for 3 years but that does not mean your product is still covered for repairs. It's best practice to automate your receipts with the Greenback app so you can always find them in case you ever need to make a claim.
Pro Tip: Text Your Warranty Questions to Lowe's!
A Lowe's chat bot can assist you by texting a question to 704.313.1818 or call 1.888.77.LOWES. You will need to include the model number and serial number AND the purchase date located at the bottom of your receipt. You can sometimes provide an estimated date of purchase. Message and Data rates may apply. We recommend the Greenback app to automate your receipts so that you'll always have them accessible when you need them for warranty or insurance claims in the future.
IMPORTANT: "Always register major appliances, power tools, or power equipment and keep all the service receipts for them." –Lowe's
Lowe's may require service receipts to fulfill a claim. "A covered service repair does NOT include: consumer requested alignments, bulb replacements, cleanings, product diagnosis, customer education, troubleshooting/telephone diagnosis, accessory repairs/replacements, all rechargeable batteries, etc"
Receipt Storage for Tax, and Insurance Purposes
It's imperative to store your receipt data for at least 3-7 years (or indefinitely for some receipts) for tax compliance. Lowe's will store your tracked receipts in your member account for you for 3 years (and potentially up to 5 years for major appliances). If you gave them your phone number when you made the purchase, it's still possible to look it up. According to State Farm, receipts are needed to help you file an insurance claim, make coverage decisions, secure a settlement, or verify property loss for taxes in case of fire, flood, or other casualties. We recommend using the Greenback app to automate all of your receipts from all of your vendors so that you can be worry-free.
Find More Info on Warranties and Lowe's Protection Plans
View Lowe's Protection Plan Terms & Conditions that may apply to your purchase: After your purchase but before making a claim, view your Lowe's Protection Plan Terms & Conditions for purchases made on 10/27/16 or later or Lowe's Protection Plan FAQ's.
View Lowe's 3-5 year Major Appliance Protection Plans. NOTE: Major Appliances and Hot Water Heaters are not eligible for Replacement Plan coverage.
Compare Manufacturer's Warranty to Lowe's Protection Plan or Lowe's Replacement Plan.
What is Cloud Accounting?
5 Reasons Why You Need Automated Receipts No more manual data entry!
Greenback + Quickbooks Learn how to sync Lowe's to Quickbooks.
How to Automate Home Depot Receipts Streamline your accounting workflow.