Dext Commerce uses Clearing Accounts to help with the reconciliation process. Here's an overview of what the process should look like:
In your accounting software, you'll create Clearing Accounts for each payment gateway you use.
When exporting data in Dext Commerce, you'll select the Clearing Account that matches the payment gateway of the transaction you're exporting.
In your accounting software, you will see deposits arrive in your bank account from that payment gateway. You will mark these deposits as transfers from the Clearing Account.
If you're still not sure what this means, don't worry - we've got you covered! Keep reading for more details.
What are clearing accounts?

Clearing accounts are a key part of the process with digital commerce accounting. They'll help with tracking, reporting, and reconciliation.

Clearing accounts are accounts in your general ledger used to temporarily hold the funds from a financial transaction until it can be transferred to the appropriate account. Clearing accounts will typically 'clear out' to zero at the end of a period. Other names for clearing accounts include:

Holding Accounts
Zero-balance Accounts
Wash Accounts

Clearing accounts are typically used to help organize and classify transactions. In the context of e-commerce, you may receive multiple deposits from separate payment gateways, all at different time intervals. These deposits will also often not include detail on things like marketplace fees or refunds. The use of clearing accounts helps organize your data into groups based on payment gateways, as well as allow you to correctly capture associated fees and other additional amounts.

Our recommendation is that you have a separate clearing account for each payment gateway that you use or receive deposits from. For example if you receive deposits from Amazon, Etsy, Stripe, and PayPal you should have 4 separate clearing accounts - Amazon Clearing, Etsy Clearing, Stripe Clearing, and PayPal Clearing.
EXAMPLE
Brewing Supply Co. sells brewing products online using a Squarespace e-commerce website. The company accepts payments through two sources - PayPal and Stripe. In addition to selling through their Squarespace website, they also sell their products on Amazon as a retailer.
In order to track each payment channel correctly, Brewing Supply Co. needs to set up the following clearing accounts in their accounting file:
Stripe Clearing
PayPal Clearing
Amazon Clearing
Navigate to Accounting >> Chart of Accounts.
Select New.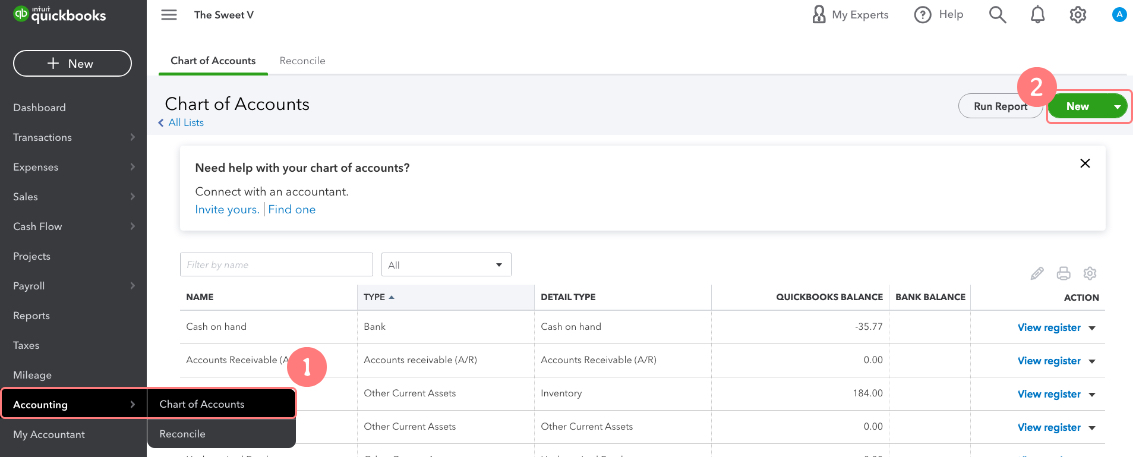 The Account popup window opens.
3. Create a new account with the following parameters:
Account Type: Bank
Detail Type: Checking
Name: Name of your payment provider, such as Stripe or PayPal followed by the word Clearing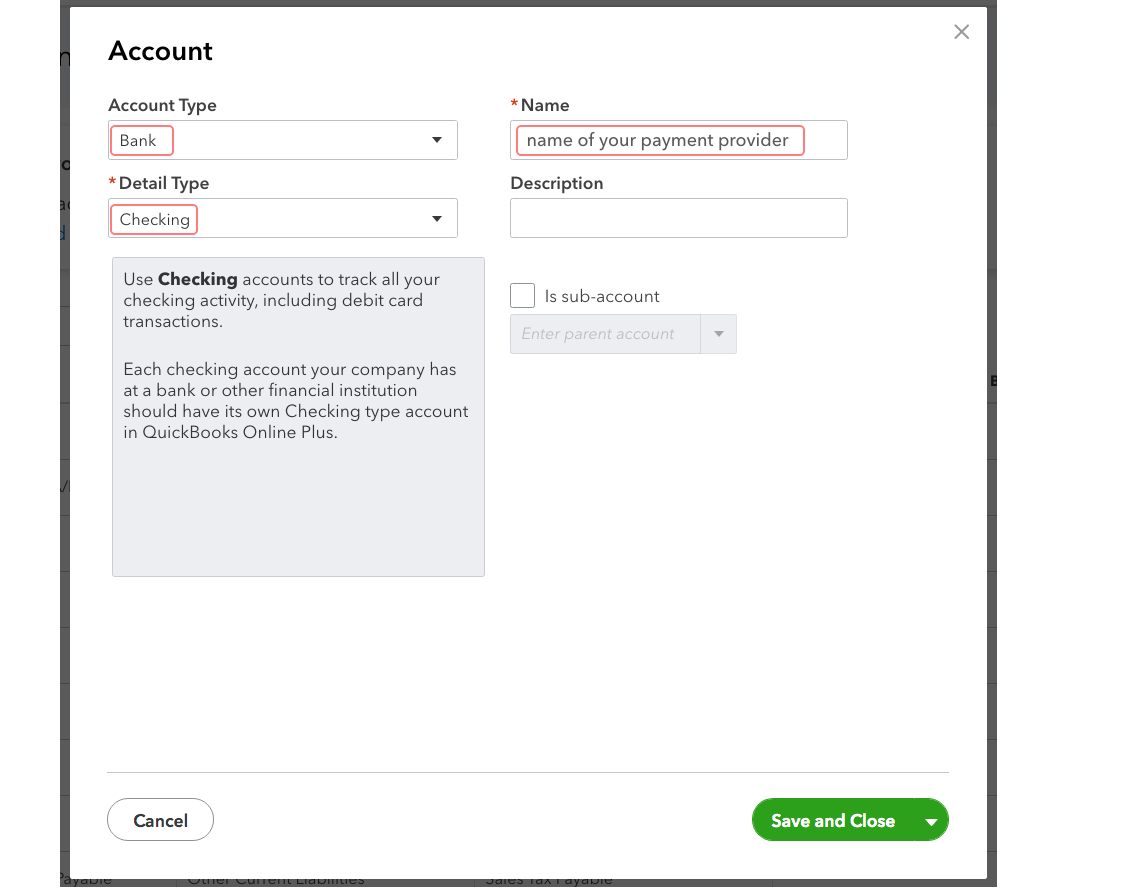 The remaining fields are optional. QuickBooks Online may also ask when you want to start tracking your finances from the account. Choose an appropriate date. Unless otherwise instructed, set the beginning balance to $0.
Click Save and Close.
Repeat these steps for each integration that requires a clearing account.
In Dext Commerce, "mappings" refer to the process and rules used to assign transactions to the correct accounts upon export to your accounting system.
Dext Commerce allows you to create mappings a few different ways:
Mapping Central
Our advanced mapping builder creates suggested mappings based on your account data. We identify six base data groups from your integrations and accounting software, and suggest relevant Mappings for each group. For example, for the 'clearing accounts' group, it suggests mapping each payment method (e.g., Stripe, PayPal, Amazon Payments) to its corresponding clearing account. To use this feature, connect your accounting file to Dext Commerce, review the suggested mappings, and select the appropriate destination account for each data group.
Memory Mapping
As you manually export transactions to your accounting system, Commerce builds a library that correlates the attributes of the transaction with the previously used accounts. We then use this library to associate future transactions with similar attributes to the same accounts as previous transactions. We refer to these as Memory Mappings.
Custom Mappings
For more complex scenarios, our team of experts can build custom rules to fit your data. These can be helpful when there are multiple attributes that play a role in determining the appropriate account to map a transaction.
SKU Mappings
SKU mappings are a great way to automatically map transactions to an appropriate product or service item within your accounting program. In many cases, Commerce will have access to the underlining product SKU associated with your sales and purchases. When a SKU from the upstream provider matches a SKU within your accounting file, Commerce will map the line item to the appropriate product or service during export.
When there are multiple mapping methods in play, the order of Mappings determine which will activate. The order can be controlled in the Mapped section of Mapping Central.