Requirements for COGS with Dext Commerce
In order to use COGS with Dext Commerce, you need to have your products set up as a product or service in your accounting system.
COGS represents the direct costs incurred in the production or acquisition of goods sold by your business. In the e-commerce industry, understanding COGS is an important step to getting a clear picture of your company's financials. In the case of businesses that operate with digital items or services, COGS are also sometimes referred to as Cost of Sales (COS).
COGS are an important window into the health of your business and its profitability. Knowing your COGS helps you:
Determine pricing strategy
Predict and measure inventory
Reduce waste
Budget and forecast
Dext Commerce can help you measure your COGS accurately by passing clean data from the sales channel to your accounting software. How this is accomplished has slight variations based on the software you use, so read below for details.
In Xero, inventory is tracked through Items. These can be found under the Products and Services section in Xero. As mentioned earlier, you'll need to add all of your products as an item in Xero. You'll also need to enable Tracked Inventory for the items.
Here's how:
Setting up Products and Services
Expand/Collapse




Navigate to the Products and Services page.

This will display your current Products and Services.

Do add a new product or service, select New Item

Fill in your product or service details. Make sure you enable Tracked Inventory
Updating Inventory with data from Dext Commerce
In order for Commerce to pass data to your COGS in Xero, you'll need to export the product to the item account instead of the Sales account during the export process.
Pro Tip: SKU Mapping
If you have SKU's set up in both your accounting file and your Sales channel, you can use our SKU mapping feature to automatically match products to their corresponding items in your accounting file.
When exporting a transaction, under the Line Item Account, select the item associated with the product.
Export your transaction.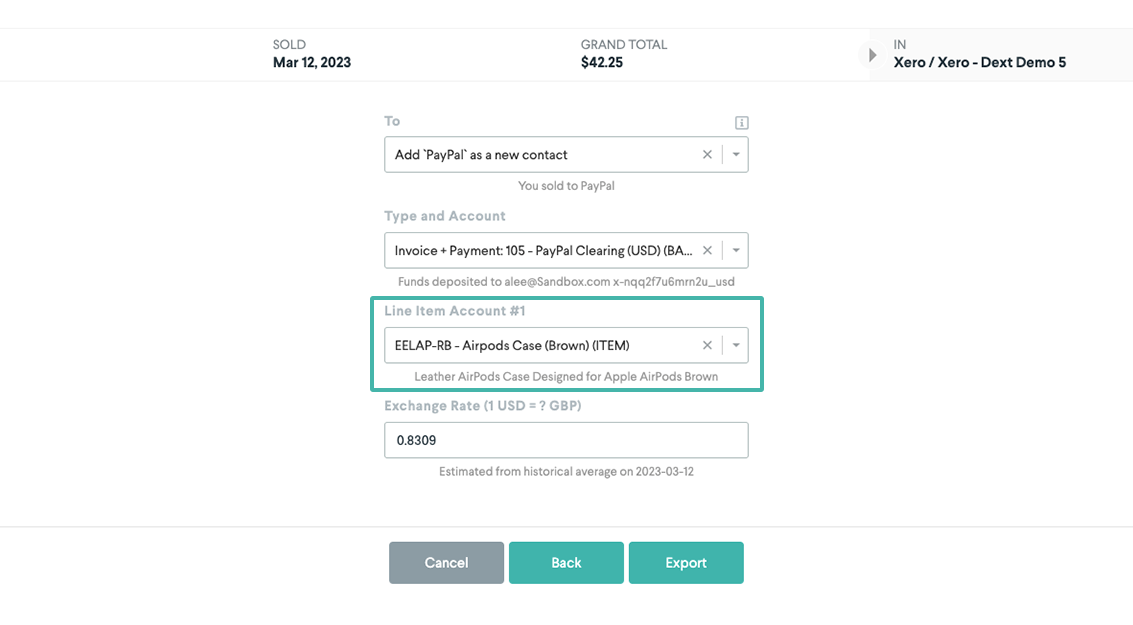 In our example, the product sold in the sales transaction was 'Leather Airpods Case Designed for Apple AirPods Brown'. In our accounting file, that product is set up as 'Airpods Case (Brown)'. So when we export our transaction, we select that item.
Future Transactions
Once you've mapped an item, Commerce will build connections to remember future transactions. So you don't have to worry about remapping items - just do it once and you're good to go!