With so many of today's merchants and retailers supporting emailed receipts, it's never been easier to automatically fetch transactions and make receipts available for exporting to your preferred accounting program. Let's get started.
Registering a new Greenback Mailbox address is easy. Just click the Connect button from the left navigation and choose the "Mailbox by Greenback" tile.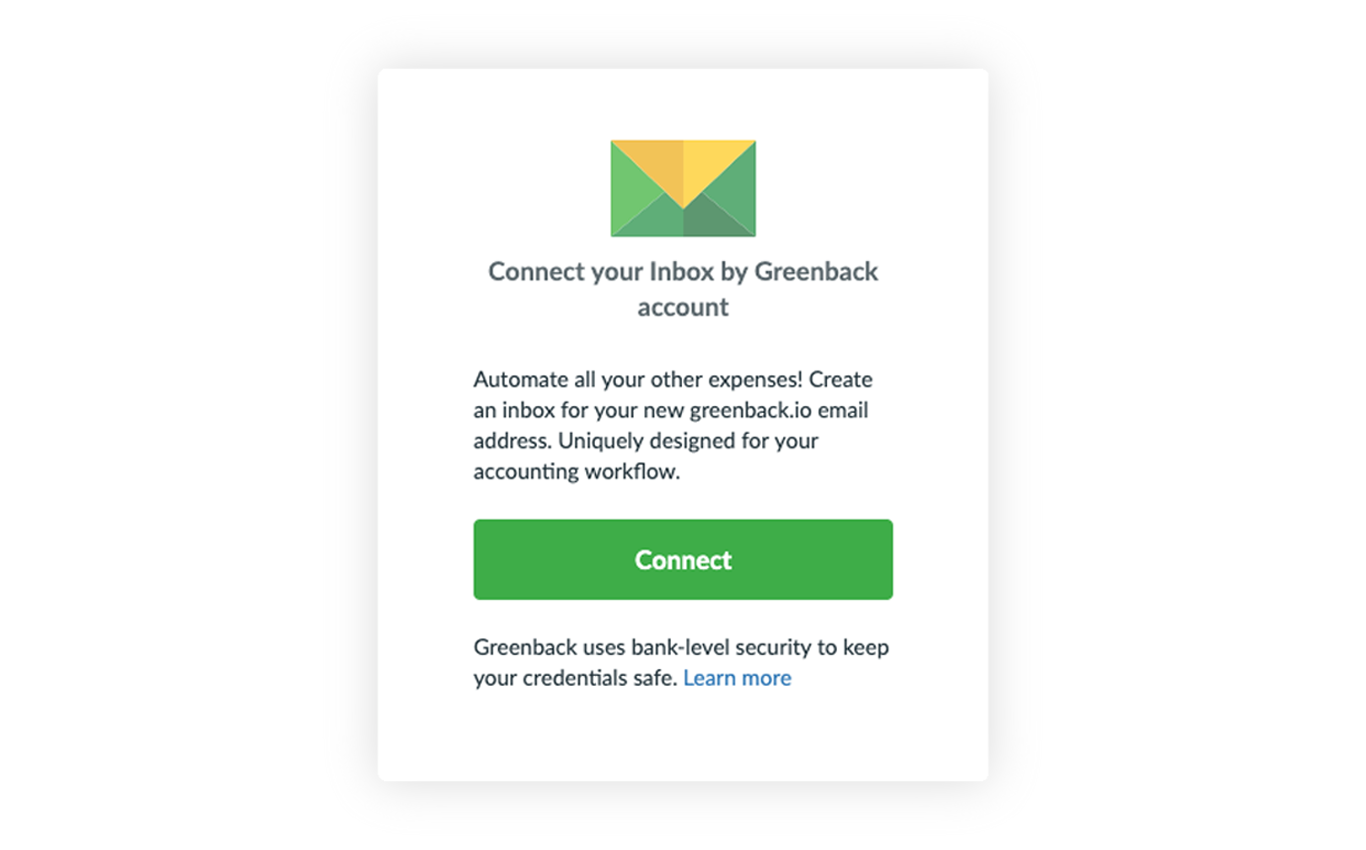 Once you click the "connect" button, you will find the new email address assigned to your account.

Sending your emailed receipts into Greenback can be accomplished by (1) manually forwarding your receipts, (2) using a standardized company email address and configuring rules to automatically deliver all company receipts to Greenback, or (3) configuring rules within your email to automatically forward emails that contain common phrases such as "receipt" or "invoice" within the subject line.
Manually forwarding email receipts to Greenback is easy. Simply forward each receipt to your Mailbox by Greenback email address. The example below shows an Uber receipt ready to be forwarded to a Greenback address.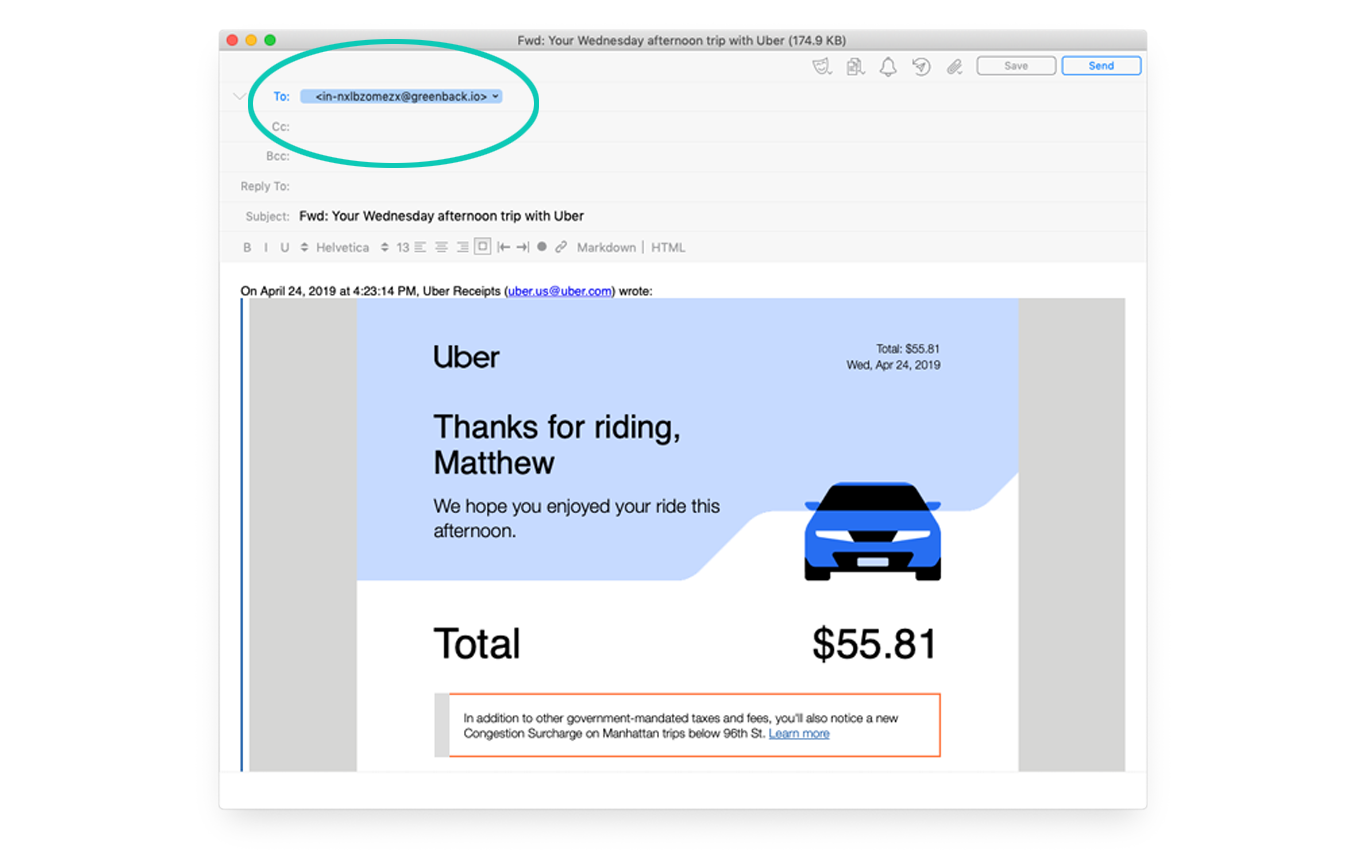 We highly recommend that when purchasing items for the business, you create a business wide email address to use for all email receipt capture. Doing so will make it very easy to setup forwarding rules for all emails to this company-wide email address.

With many business email services, you can create rules that will automatically forward new emails to your Greenback Mailbox account. For example, in Gmail, simply
go to settings -> filters -> create a new filter
define the keywords "receipts, receipt, invoice, payment" within the "has the words" filter field. (reference #1)
click "create filter"
click the checkbox "forward it to" and add your Greenback Mailbox address (if not configured, please follow instructions on how to setup your Greenback Mailbox address for use within gmail). (reference #2)

Some email providers such as Gmail may require you to authorize the Greenback mailbox address before allowing you to forward emails. In most cases the email provider will send an authorization code to your Greenback mailbox account. You will then need to follow the instructions within this email. To view this email, simply sign-in to your Greenback account and go to your expense accounts (wallet icon) and choose the Greenback mailbox account you would like to forward email to. View the Mailbox tab of your Greenback mailbox and look for the email sent by your email provider. You can then click into the details of that email and follow the instructions provided to complete the authorization.

Now that you've forwarded your emailed receipts to Greenback, let's review how we prepare our receipts for import to an accounting program.
From within your greenback.com account, choose the new Mailbox account for the list of active connections.
From here you'll see two tabs, "Transactions" and "Mailbox".
Emailed receipts that Greenback was able to automatically convert into a "ready to export" transaction will be shown on the "Transactions" page. With support for millions of merchants and retailers, many of your receipts will be automatically converted for you. Transactions that Greenback is not able to automatically convert will be found on the "Mailbox" page. You can easily switch back and forth between the Transactions and your Mailbox (see image below).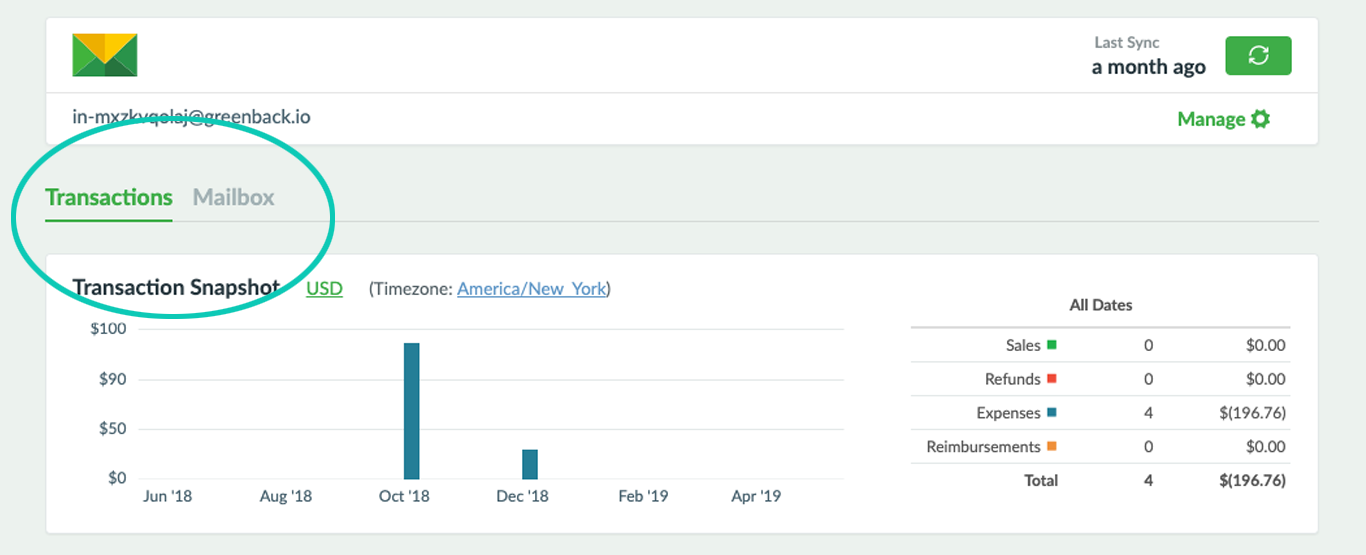 In some cases, Greenback will not be able to automatically convert your emailed receipts into "ready to export" transactions. Not to worry though! You can easily transform these receipts yourself.
From the Mailbox tab, choose an emailed transaction from the list and click the "Convert" button
To make the process of converting a transaction easy, Greenback will present a rendering of the emailed receipt on the left side of the screen. On the right side, you'll be able to define the details of the receipt.
Once you've defined the details of the transaction, be sure to identify any attachments from the emailed receipt. Greenback makes it really easy to associate any and all attachments from the email to the newly created transaction. Remember, attachments can "follow" the transaction through to your accounting program and act as a copy of the original receipt.
That's it! Your converted transactions will now appear in the Transactions tab and can be exported to your accounting program like any other transaction on the Greenback platform.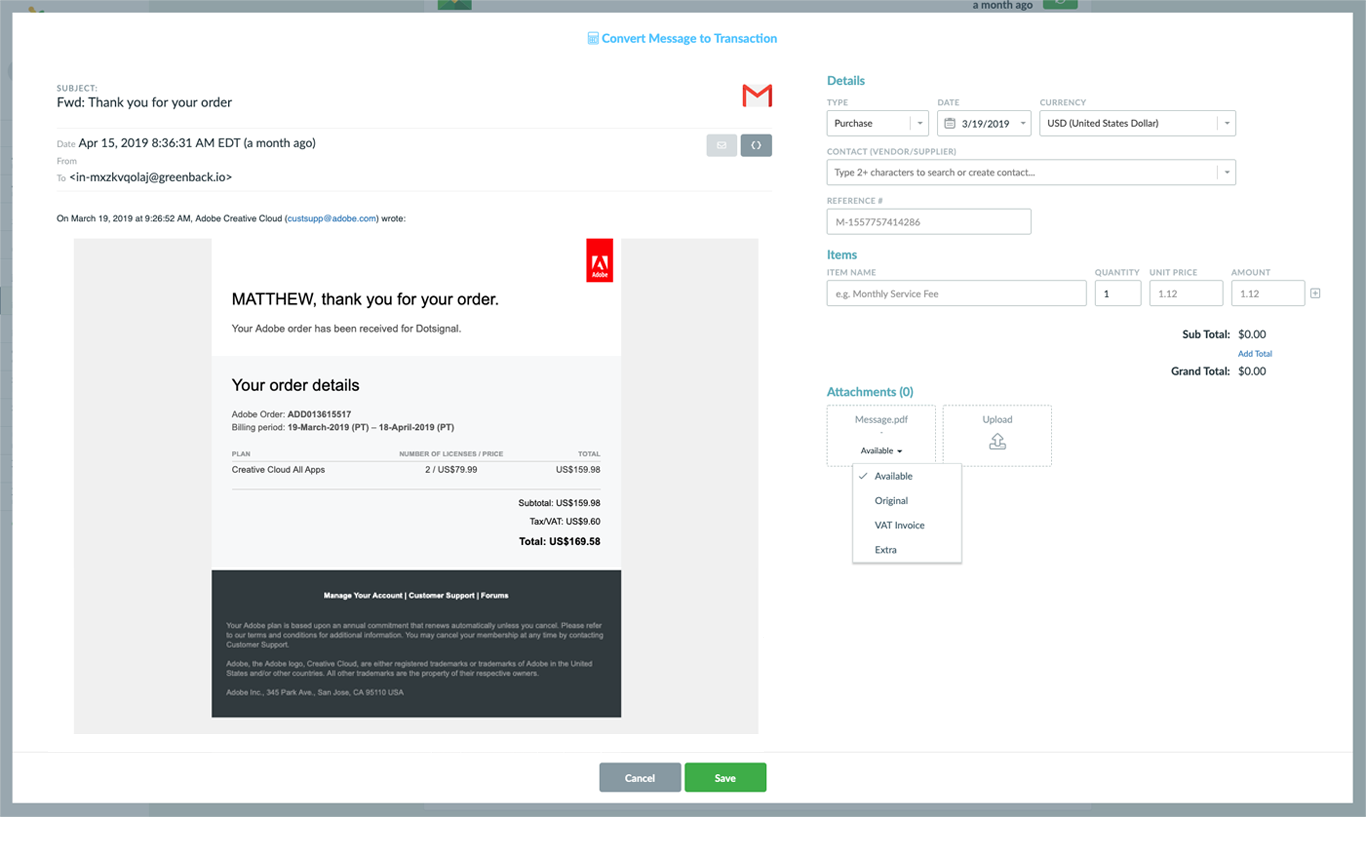 In some cases, you may have emailed receipts that are not relevant to your business. Greenback provides you with two options, you can archive and/or delete emailed receipts from your Inbox and converted receipts from the Transactions tab. To do this, simply click the "3 dot" button from each record and choose the preferred option.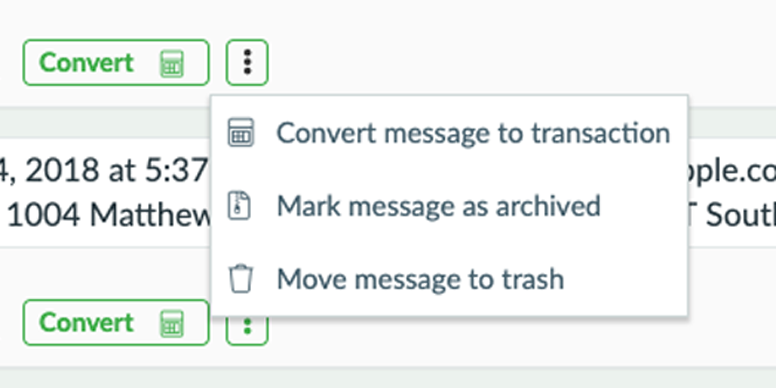 Greenback maintains a "verified" list of the world's top merchants and retailers and will often present them as potential contacts for use on an emailed receipt. Once you select a contact, regardless of whether it's a new contact or a contact from the Greenback verified list, Greenback will associate that contact with future emailed receipts. In addition, the Greenback platform "learns" from your historical receipt conversions and in time will be able to convert emailed receipts into transactions automatically.