CONNECTED ACCOUNTING
Automate Home Depot Branded Credit Card Receipts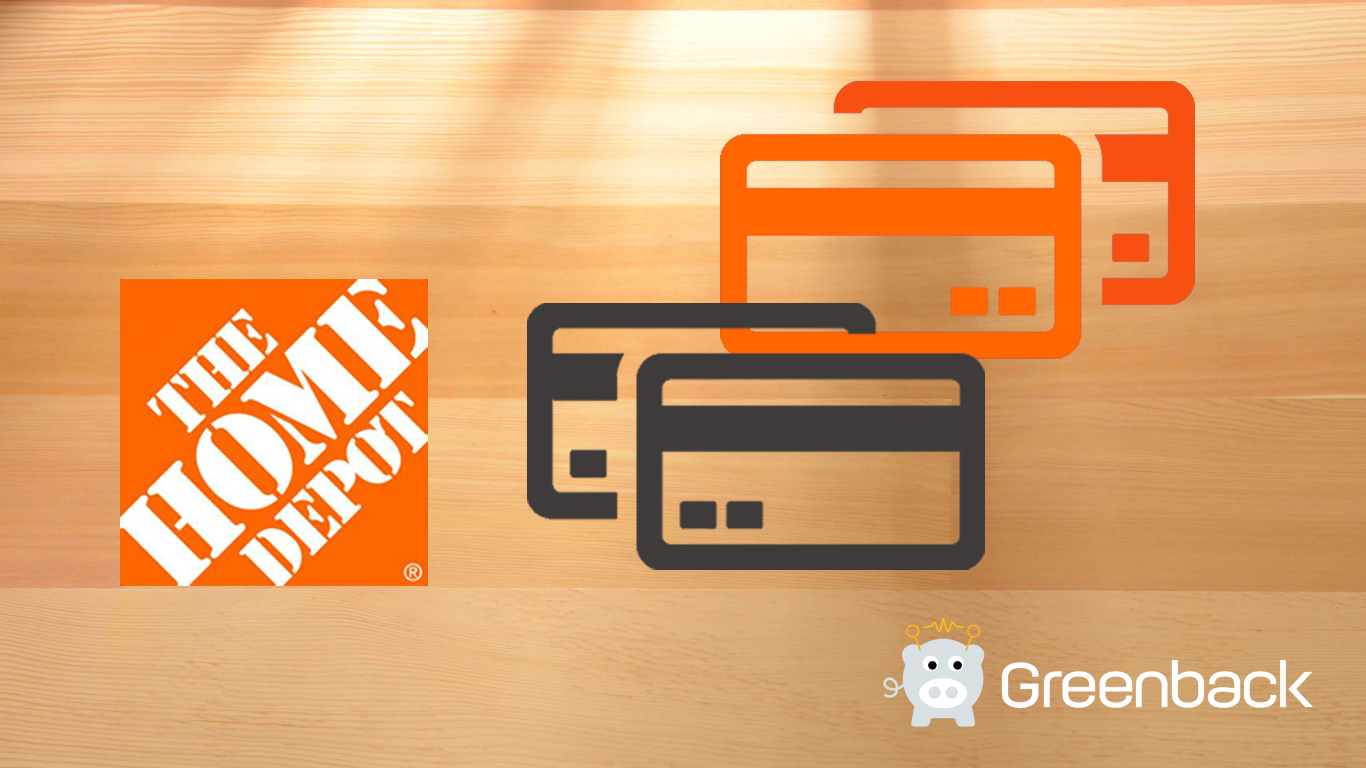 Overview
There are many credit card services offered by Home Depot for your home or business. Check out the credit center to find out more about their Consumer Credit Cards, Project Loans, Commercial Revolving, and Commercial Account offerings. What is unique about Home Depot is that they don't just provide statements or invoices. For example, in your commercial credit card account, you'll see the date a purchase posted (but not the actual purchase date), the store departments (sku level e.g. plumbing, etc), and the amounts. You can do returns for up to a year depending on your card, but Home Depot knows that customers need their receipts for accounting purposes. By connecting Home Depot to Greenback, you can easily automate your receipts and export them to Quickbooks or Xero. Home Depot makes it possible.
Let's Start Automating!
Connect Your Home Depot "My Account" to Pro Xtra
You don't have to be a pro or a business owner to have a free Pro Xtra account. You will need a Program Number and a Pro Xtra account to start the flow of your receipt data. Your program number is the personal or business phone number that you entered on your credit application. You are automatically enrolled in the Home Depot Rewards Program when you apply for credit. And you may not know this but you already have your login credentials for your Pro Xtra account! They are identical to your "My Account" created when you applied as well. Just use those same credentials to finish your Pro Xtra account profile if you haven't already to take advantage of all the discounts, and benefits. To see how to complete your profile go to How To Automate Home Depot Pro Xtra Receipts. Next, add your payment methods, including all of your Home Depot credit cards, in order to track your purchases. If you delegate spending to your employees, you can add up to 4 buyers that were issued credit cards. Just input the first 16 digits. The last 5 digits identify each buyer. After cards are linked to your online account, your receipts can take up to 24 hours to appear in your Pro Xtra account. After they post, your receipts can then be automated by Greenback. If you don't wish to store your cards online, the only simple alternative is to always provide your phone number at checkout. But then you can only check out at the Pro Desk. See below on other ways of adding a receipt to your Pro Xtra account.
Remember that your receipts will only be available in your Pro Xtra account for up to 24 months unless you automate them. Greenback fetches your fully itemized, detailed receipts directly from Home Depot. They are not from your Citigroup account. Credit card companies only store records for 18 months to prevent chargebacks and as you know, those statements or invoices are not your original receipts. Your commercial credit card statements are helpful on their own but not enough to be used as supporting documents for expenses if you are ever audited. In Greenback, every receipt is easy to work with and can be searched by PO number/Job name, product, address, etc. You can see all of your receipts from Home Depot, Lowe's, Menards, Amazon, Walmart, etc. When you connect your vendors to the Greenback platform you can easily export your expenses to QuickBooks, Xero, and Zoho too.
Pro-Tip: When you add/submit a receipt for rewards points, if it's dated before the registration date of your rewards account, those purchases don't earn points.
Pro-Tip: When paying your credit card bill, it can only be with cash, by debit card, or by check. It can not be paid with a Home Depot Gift Card since they are run through internally. That option isn't available at the register. If you have a prepaid debit card, that is accepted.
If you have billing questions about your Home Depot commercial and revolving credit cards, call the Home Depot Pro Xtra Customer Care Center at 1.866.333.3551.
Connect Home Depot to Greenback
Login to your Pro Xtra account to test your credentials if needed.
Sign up for a Free or Premium Greenback account at Greenback.com
Connect your Home Depot Pro Xtra account. (You can also add your regular Home Depot "My Account" that is tethered to the Pro Xtra account. But Home Depot mirrors the receipts in both, so it's not necessary.)
Connect your accounting platforms. (optional)
That's it!
As soon as you connect your accounts, you'll set in motion the automation of your receipt data. You'll see your transactions immediately in Greenback. There's no waiting for days or any setup. You do not have to be a business owner to sign up. See below for tips on protecting your name/registering your business. Greenback can sync all of your consumer or commercial Home Depot account(s) to an unlimited number of accounts in QuickBooks, Xero, or Zoho which is great if you have more than one. By leveraging our amazing transaction data, Greenback supplies you key information, in the right context to help you export with confidence every time and reconcile every cent spent. All of your transaction details are indexed, and easily searchable on our platform and the data (along with the receipt) syncs to your accounting package. For high-volume users, there's a Bulk Export feature that can save you a lot of time or when you need to catch up on record keeping.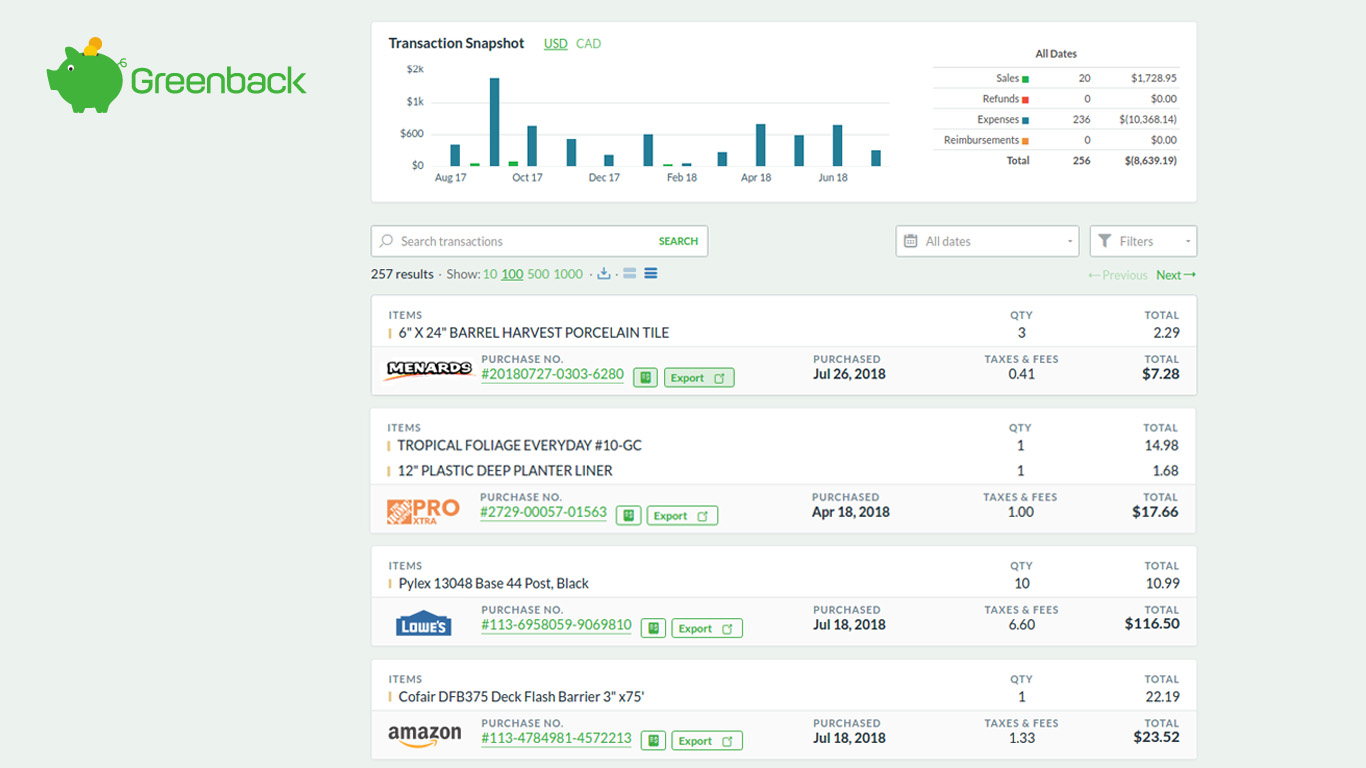 Pro Xtra Program
Qualifying Purchases
The Pro Xtra Program allows Program members ("Members") to track their Qualifying Purchases at The Home Depot®. "Qualifying Purchases" are designated products and/or services, less any taxes, fees and returns. Members have access to review their Qualifying Purchases history. Pro Rewards EXCLUDE online purchases, tool rental, gift card purchases etc.
"In order to receive a Rewards Discount applicable to the current membership level, Members must present their Program Number to a The Home Depot associate (or input it into the pin-pad at a regular or self-checkout register) prior to completing a sales transaction. No retroactive Discounts will be given on purchases where the member's Program Number was not entered at prior to completing the sales transaction."
Pro Xtra E-Receipts
The Home Depot may provide Members with electronic receipts and other transaction records via the email provided during Member registration.
Homedepot.com My Account
As a benefit to joining Pro Xtra, you will automatically be registered for a HomeDepot.com "My Account." If your email address is not already registered in My Account, you will use the same login credentials for My Account as you use for your Pro Xtra account. Because accounts will automatically be linked, the following updates will display in both accounts: Email address updates, Password updates, First or last name updates, Registration of a credit card that includes billing address, CSV, and expiration date, will display in your Pro Xtra account and will display in your My Account, Registration of any credit card in your My Account will display in your Pro Xtra account, Deletion of a credit card, Edits to a credit card that include card number, expiration date, billing address"
Text2Confirm Program
As part of Pro Xtra, you may join The Home Depot Text2Confirm program to receive automated text messages requesting approval of in-store purchases made on your behalf using your designated credit/debit card.
Home Depot Issued Key Tag Cards
Participants may request a Key Tag card to track Qualifying Purchases made with cash, gift card or store credit; however, the Key Tag card must be presented to a Home Depot associate prior to completing a sales transaction. Providing false information or omitting requested information may be grounds for denial of enrollment, accrual of Qualifying Purchases, and/or suspension of membership. Members must provide a valid email address during registration or, if previously registered without an email address, by contacting the Pro Xtra Customer Care Center, or by visiting the Pro Desk or Special Services Desk at their local The Home Depot store."
Reserved Parking
Just for you, right in the pick up /drop off area marked for pros at the front of the store.
How To Add A Receipt to Your Pro Xtra Account
If you miss a receipt, you can input it 3 ways within 120 days.
The use of registered tender forms allows Qualifying Purchases to be tracked retroactively. Registered, active Members in good standing who fail to present their Program Number during a sales transaction and/or fail to use registered tender forms to pay for Qualifying Purchases may have such Qualifying Purchases added to their Qualifying Purchases history by following the instructions below within 120 days of the sales transaction:
-Call (866) 333-3551 to speak with a Pro Xtra Customer Care Center representative ("Customer Service") for the Program. Fax copy of the Qualifying Purchase receipt and the Member's Program Number directly to the attention of the Customer Services representative with whom the Member spoke during the call (866 333-3563).
-Log into the Member's online account and follow the instructions to add the receipt details.
-Visit a local Home Depot Pro Desk or Special Services Desk with the Qualifying Purchase receipt to have it added to the Member's account.
Home Depot Commercial Credit Card Benefits
Chip and Signature
Your credit cards are protected by the EMV chip feature and require your signature.
Itemized Statements
Easy-to-read, itemized billing statements organized by product number. Includes posted date, sku, total. NOTE: Only your receipts will have details such as actual transaction date, sales tax, price, product, address, method of payment ex: Visa Ending in ***4242, etc.
Easy Purchase Tracking
Track purchases by PO number, job name, or job number. Must be input at checkout.
Online Account Management
View, manage and pay your account online, from anywhere
1 Year to Make Returns
Have up to a whole year to make returns, just for being a cardmember.
Pro Xtra Membership Included
Automatic enrollment in the pro savings & benefits program
Commercial Accounts
Pay in Full Monthly
Payment due in full each month OR Enroll in 60 Days No Interest
"Pay by Invoice" Terms
Optimize cash flow with the flexibility to itemize and pay invoices
Buyer ID Cards
Authorize users to make purchases with spending limits and get detailed purchase info
Commercial Revolving Charge
Payment Flexibility
Make low monthly payments or pay in full each month
Authorized User Cards
Issue cards to employees entrusted to make purchases on your account
Citigroup
1-866-875-5488 or Outside the U.S., Canada and Puerto Rico, Call Collect 1-423-467-6124
Fuel Reward Savings at Shell
Visit homedepot.com/cardbenefits to learn more and to enroll. If you have questions regarding eligibility, please call Citibank, N.A. customer service at 855-483-0352. Then redeem them at Shell stations! "The Fuel Rewards® program has over 11,000 participating Shell and other select fuel stations. Go to fuelrewards.com/homedepot. Select "Find a Station" under the "REDEEM" tab at the top of the page. Enter your ZIP code and desired radius to find the station nearest you"
For questions call Fuel Rewards Member Services at 888-603-0473. You may also send an email to support@fuelrewards.com or visit www.homedepot.com/cardbenefits for full The Home Depot® Commercial Credit Fuel Offer Terms and Conditions and Fuel Rewards® program Terms and Conditions.
If you have questions regarding eligibility, please call Citibank, N.A. customer service at 855-483-0352.
Taxable & Non-Taxable Purchases
As a Home Depot customer, even if you were not charged sales tax at the time of your purchase, you are still required to pay the sales tax for those purchases at tax time (unless it met the requirements for an exempt purchase). If you are in a state that has ruled that online stores have click-thru nexus and they meet the sales threshold, then sales tax will be collected from you at the time of purchase instead. There are several states that do not charge sales tax at all but usually you are required to pay sales tax either at the time of purchase or for that year. It depends on the specific product or service and city, county, or state so please consult your tax advisor or accountant for assistance. Greenback makes sure that taxes are itemized on your transactions and uniquely handled throughout our platform for purchases that are taxable, non-taxable, and tax exempt.
Tax Compliance
It's imperative to store your receipt data for at least 3-7 years (or indefinitely for some receipts) for tax compliance. Some online stores may archive up to only 90 days. According to State Farm, receipts are needed to help you file an insurance claim, make coverage decisions, secure a settlement, or verify property loss for taxes in case of fire, flood, or other casualties. Greenback recommends automating all of your receipts from all of your vendors, suppliers, and marketplaces so that you can be worry-free.
Earn Cash Back Rebates
You can earn certain cash back rebates if "you're a professional trade organization member including the NAA, IEC, NARI, NREIA, and USC. Learn more at https://www.fundera.com/blog/home-depot-business-credit-card