Greenback's own Joe Lauer and Kristin Kanaar were interviewed live at the QuickBooks Connect 2018 conference in San Jose, California, by hosts of the QB 'Appy Hour, Liz Scott & Heather Satterly. The featured interview was part of #QBConnect and the QB Community Live! group coverage by Lynda Artesani. The QB 'Appy Hour is a monthly webinar series dedicated to discovering rockstar automation apps in the QuickBooks ecosystem that save you time and money!
Scott and Satterly caught up with Greenback in front of the Discovery Hall Demo wall where they shared some fun and candid moments. Satterly praised Greenback's innovative approach to itemization, and called Greenback one of her new favorite apps, while Scott marveled about how clean and user-friendly the interface was.

See Tweet: "One of my favorite apps! Greenback is #trueinnovation."
Positive feedback from the Greenback demo included enthusiastic remarks from the QB 'Appy Hour duo like "Extremely innovative … being able to bring in expenses with the itemized receipt … down to the line item …I love that!", "I've already connected it to my Home Depot, and I'm able to see every single purchase." and "Even the Coke that I bought!", "The way that it comes in is so clean … Making expenses pretty is not an easy thing, but you've done it!"
Also overheard on the last day of the conference from Liz Scott, QB 'Appy Hour, "What a fantastic week…of QuickBooks Connect. Make sure that you are checking out Greenback! They've got lots of really cool things to offer: Expenses to being able to line item track inside of QuickBooks Online." Kristin Kanaar, Greenback responded "Yep come check us out. We're always introducing new exciting features!"
See Tweet: "Greenback makes line item tracking inside of QuickBooks Online easy!"
The QB 'Appy Hour is a super fun monthly webinar series dedicated to the QuickBooks Apps ecosystem! Each month, they explore an educational topic involving apps that work with QuickBooks. Topics include best practices when using and implementing apps, apps that rock certain industries and workflows, and apps that can save you time and money through supercharged automation.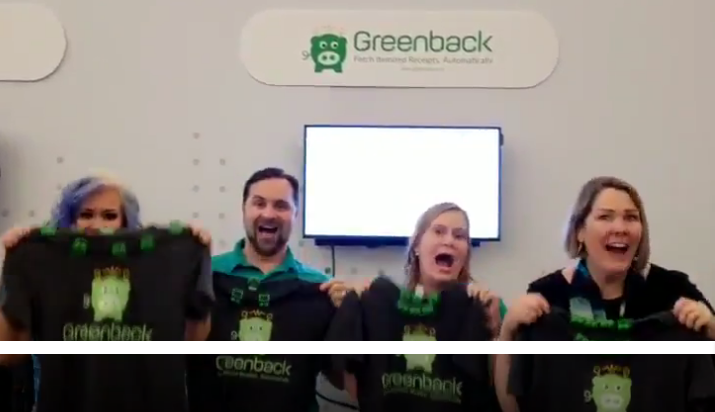 Greenback automatically syncs itemized transactions from millions of vendors with its sophisticated connected accounting platform. Learn more about the 5 Reasons Why You Need Automated Receipts.
Greenback is a privately-held company, backed by venture capital from an assortment of private investors. Our executive team has decades of experience building highly secure, scalable financial and telecom services, with previous companies acquired by Twitter (NYSE: TWTR) and Amdocs (NYSE: DOX). Greenback's CEO, Joe Lauer, was appointed in 2016 by Michigan's governor to serve on its 21st Century Economic Commission.
Founded: 2015
Headquarters: Royal Oak, Michigan, United States
To learn more, visit Greenback.com or shoot us an email at: ping@greenback.com