eBay Managing payments is the new way to sell and get paid on eBay. eBay is following in the footsteps of other seller marketplaces such as Etsy and Amazon Seller by migrating to their own branded card processing and payment service. Today, eBay manages payments for thousands of sellers, with more joining every day. eBay Managed Payments will give sellers a consolidated payment service while giving buyers even more ways to pay. Automated payouts and deposits for all sales will now originate from eBay, regardless if the buyer paid via a credit card, PayPal account or Apple Pay.
Payment methods supported with eBay Managed Payments
Buyers have more payment options including credit, debit, and gift cards; Apple Pay; Google Pay; PayPal and PayPal Credit. You will no longer need a separate PayPal account - for buyers or sellers. Learn more about eBay Managed Payments here
It means "Houston we have a problem". If you are currently relying on the PayPal bank feed or a PayPal data sync app to automate the flow of your sales data from eBay to an accounting program, you will now realize that most of your sales data is no longer automatically syncing with your accounting system. eBay sellers that have migrated to the Managed Payments service will now see all sales "clear" through the new managed payments service. Your PayPal bank feed or PayPal apps will no longer contain the sales data needed to automate the accounting of your eBay sales.
Greenback simplifies accounting for your eBay sales. Greenback automatically sync your accounting data direct from eBay regardless if your sales were cleared using PayPal or the new eBay Managed Payments service. Greenback auto-fetches your sales, sales related fees, refunds and reimbursements directly from eBay and syncs them to an accounting program.
For those accounts that have migrated to the new eBay Managed Payments service, your Greenback account will now show eBay transactions that have cleared via PayPal (historically) as well as eBay transactions that are now clearing via the eBay Managed Payments service. It's important to remember that you will want to export your eBay sales to the corresponding clearing account based on how the transaction was processed. In this case, eBay transactions that have historically cleared via PayPal will continue to be exported to a PayPal clearing account. eBay transactions that are now cleared via the new Managed Payments service will now export to an "eBay Managed Payments" clearing account. For more information on clearing accounts, be sure to read Clearing accounts for e-commerce sellers
It's easy to tell which transactions have been serviced via the new Managed Payments service. Simply view the details of any transaction and reference the Payment detail.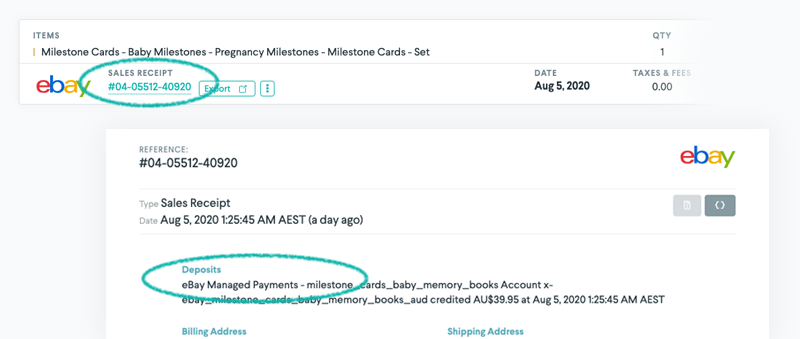 You can also review the payment method during an export (see below).