In order to connect your Walmart Marketplace seller account to Greenback, you will need to generate an API key. The Walmart Developer Portal provides Delegated Access authorization to allow sellers to create separate API Keys and credentials for Greenback.
Connect your Walmart Marketplace seller account to Greenback using the following steps:
Generate your Walmart Marketplace seller API Key

Using your Walmart Marketplace seller credentials, log in to the Walmart Developer Center at https://developer.walmart.com
Click Add New Key For A Solution Provider to set permissions and generate a Client ID and Client Secret.
Select Dext Commerce from the drop-down list.
IMPORTANT! Specify Full Access for the Feeds, Order Management and Settings, Rules & Admin sections, and click Submit. (see screenshot below)
If you fail to provide the appropriate permissions your account will fail to connect to Greenback. You will be instructed to assign new permissions in order to attempt the connection again. Reseting your permissions can sometimes take 5-10 minutes to propagate.
Connect to Greenback

In a new tab, log in to your Greenback account
Go to Connect an account > Sales > Walmart Marketplace > Connect +
Copy the Client ID from your Walmart Developer Center page and paste it into Greenback's Client ID field
Copy the Client Secret from your Walmart Developer Center page and paste it into Greenback's Client Secret field
Click Connect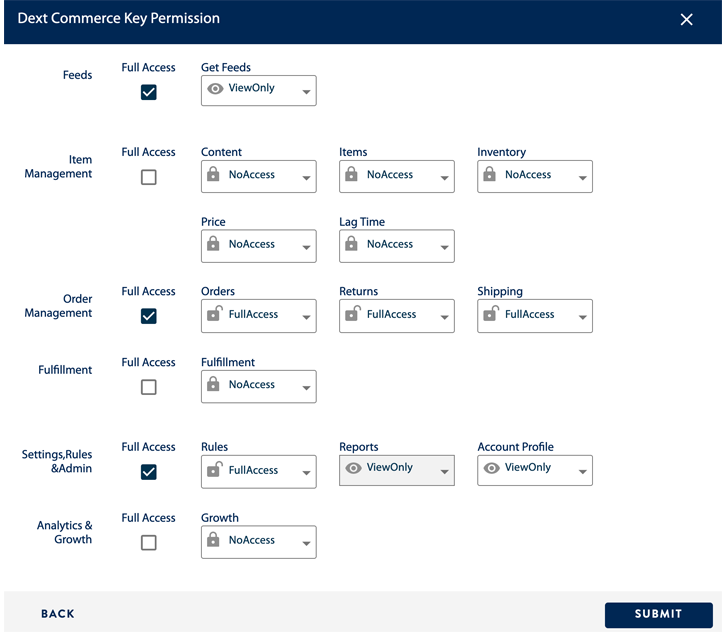 United States
Greenback fully supports Walmart Marketplace in this region.
Mexico
Greenback is currently looking for beta testers that use Walmart Marketplace Mexico.
Learn more about Walmart Marketplace
Become a beta tester by connecting your Walmart Marketplace Mexico seller account
Canada
Walmart does not currently share settlement reports with 3rd parties via their API - therefore, Greenback does not currently support Walmart Marketplace Canada.
We encourage you to let Walmart's product team know you need settlement reports via the API in Canada.
If you are in need of your historical transactions, Greenback can gather those for you. Walmart Marketplace maintains the most recent 180 days of transactions.
Learn more about gathering your historical transactions
Greenback gathers all data associated with each transaction from connected integrations. Walmart Marketplace provides:
Normal transactions
SKUs
Shipping addresses
Buyer names
Buyer email addresses
Order State
Sales reference IDs
Deposits/Payments
Taxes
Shipping
Fees
Walmart Marketplace data does not include:
Open Transactions
Walmart Marketplace must settle transactions before they can be exported from Greenback to your accounting platform. Until they are settled, transactions will show as "Open" in our app. Once settled, those transactions can be exported.

Tax Allocation
Greenback will acquire taxes and fees in real time from Walmart Marketplace. This is also impacted by Open transactions. Only when transactions are settled will tax amounts (Sales or Facilitator) be allocated.
Walmart Fulfillment Services (WFS)
Greenback fetches the fees associated with Walmart Fulfillment Services.
Walmart Marketplace offers 2 fulfillment options for eCommerce sellers: Merchant and Walmart.
Merchant fulfilled services is the classic way of eCommerce. The business owner holds inventory, collects orders, ships packages, collects and pays taxes, etc. Walmart simply provides the platform on which to sell.
Walmart Fulfillment Services provides the end-to-end service for eCommerce sellers, essentially performing all the steps of the Merchant fulfilled service for a fee.