Eligibility
To use Auto Exports, you must be on a Growth plan or higher.
Auto Exports are a Dext Commerce feature that will automatically export your transactions from Dext Commerce to your accounting platform at regularly scheduled intervals.
Once enabled, sit back and relax! Dext Commerce will continue to fetch your transactions from your connected integrations, route them to the appropriate account, and automatically post them to your accounting file.
Auto Exports allow accountants, bookkeepers and business owners to streamline their process - saving time and reducing costly errors.
Auto Exports leverage Dext Commerce's existing export capabilities and automates them - removing the need for manual processing.
Using the existing Bulk Export feature, you can move up to 500 transactions at a time with the single click of a button. Once Auto Exports are setup, all of your transactions will be moved over - without you needing to do anything.
Note
Dext Commerce does not limit the number of transactions that can be exported. However, your accounting platform may have daily limits in place.
With Auto Exports the human element is removed from the accounting process. Transactions seamlessly flow from Dext Commerce to your account platform without someone touching the data.
To ensure the best experience with Dext Commerce's Auto Export feature, optimize your accounting system before enabling this feature.
This includes items such as:
Chart of Accounts and Clearing Accounts
Tax Centers
Products/Services
Categories and SKUs
Any additional items you wish to capture or report on
Auto Exports work best when Dext Commerce mappings and transforms are in place. Ensuring all transactions are routed to the proper location is a necessity for Auto Exports to function properly.
Learn More About Mappings
Learn More About Transforms
Auto Exports are best suited to start on a future date. It is recommended to continue manually exporting transactions until then.
Note
When created, Auto Exports enter a brief evaluation stage. Dext Commerce's technical team will review the account and confirm that mappings and setup for any conflicts. Once approved, you will be notified that your Auto Export is active. To ensure the best experience, please read What do I need before enabling Auto Exports?.
To enable Auto Exports, click the Auto Export button on the left navigation pane.

Set Up: Select the accounting system you wish to export to, then select Set up Auto Export.

Frequency: Select how often you'd like Dext Commerce to automatically export your transactions.
Status: If for any reason you wish to pause an Auto Export, deselect the Active button

Accounts: Select the account(s) you wish to have automatically exported.

Transaction Start Date: Auto Exports will run for transactions on or after this date.
Transaction End Date: Auto Exports will run for transactions up to but not including this date.
Leaving the end date blank will automatically export all applicable transactions until an end date is entered or the auto export disabled.
Note on End Dates
As mentioned above, the Transaction End Date does not include the day selected. This means that if you want Auto Exports to run from January 1 to January 31, you will need to select February 1 as the end date.

Adjust your Advanced Options, if necessary.
Query: For advanced users. Define query parameters to further restrict what transactions are subject to this Auto Export.
Limit: Define the maximum number of transactions that are processed by each Auto Export.
Error Limit: Define the maximum number of acceptable errors before an Auto Export run is cancelled.
Types: Restrict this Auto Export to specific transaction types.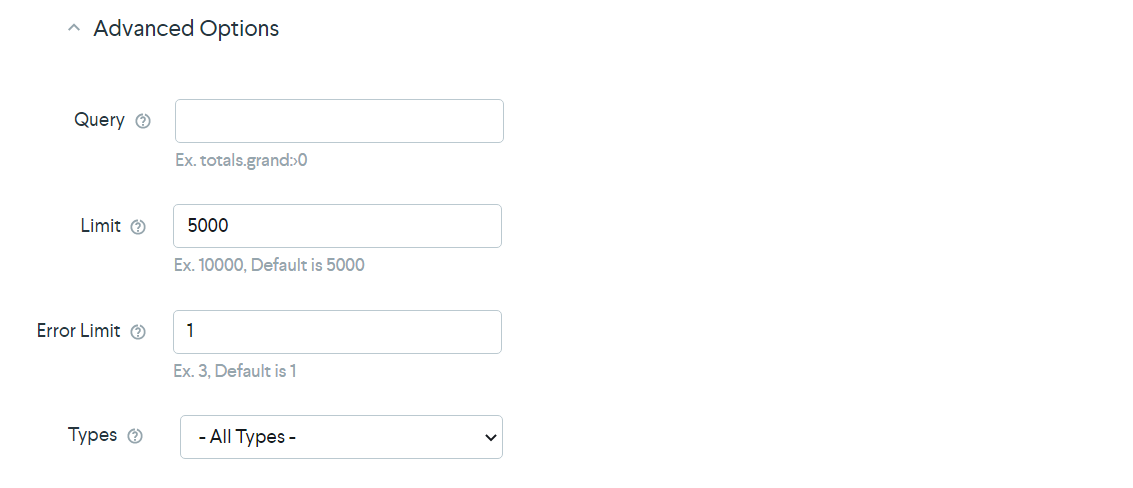 Once you have your Auto Export set up, click Submit for Review to complete the process.

Once approved, your transactions will be automatically exported to your accounting file at the next scheduled sync.
When first created, Auto Exports enter a brief evaluation stage. Dext Commerce's technical team will review the account and confirm that mappings are correct, as well as check for potential conflicts. During this time, the status of the Auto Export will be set to 'In Review'

Once the Dext Commerce team has reviewed the account and approved it, you will be notified that your Auto Export is now active.
For new Auto Exports, the initial process time (referred to as a 'sync') will be scheduled for 24 hours after it's creation date.
Once the initial sync takes place, Auto Exports will run at the frequency chosen during setup, using the completion time of the initial sync as the baseline.
An initial Auto Export, set to Weekly frequency, is created at 5:00 PM on July 1st.
The initial sync runs at 5:00 PM on July 2nd, completing at 5:05 PM.
The follow up sync's will run at 5:05 PM on July 9th, July 16th, etc... until the end date is reached.
Manual Syncs
It's possible to force an Auto Export sync to run. This is referred to as a 'manual sync'. If you do so, this will replace the existing baseline sync date with the time of your manual sync. This means that future syncs will take place either 1 Day, 1 Week, or 1 Month from your manual sync, based on your selected Frequency.